The Vice Chairman of the Joint Chiefs of Staff this week said one of his biggest concerns is for the health of the U.S. industrial base, which he calls weak with large vulnerabilities proven by the COVID-19 pandemic.
"My concern is the health of our industrial base because right now our industrial base is not healthy and COVID has not helped it. And it's not as much the primes as it is the critical sub-tier vendors that support our primes and we saw huge vulnerabilities in the COVID supply chain," Air Force Gen. John Hyten said during a virtual Center for Strategic and International Studies missile defense event Tuesday.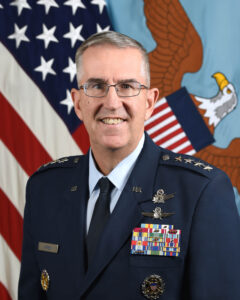 Hyten said the DoD took a look at the overall supply chain that supports department vendors "and I'll just say without going into any classified detail that the supply chain is weak and we have to take a hard look at that because without that kind of supply chain, we cannot move nimbly, quickly, we cannot stay ahead of the threats that will continue to morph and we are going to have a hard time building the affordable capabilities in order to do that."
The Vice Chairman said this supply chain issue is his biggest concern when considering future missile defense systems like the Next Generation Interceptor (NGI) for the Ground-Based Midcourse Defense System aimed toward intercontinental ballistic missile threats to the U.S.
Hyten said he may be somewhat jaded after looking closely at the American supply chain in terms of supplies needed for the pandemic response.
"It's not just gloves and masks and gowns and that kind of stuff, but it's the materials that are needed for vaccines and the materials that are needed – and that translates directly into materials that we need for our weapon systems, materials that we need for the development and we just do not have a robust resilient supply chain right now, we have to take a hard look at that."
Hyten also commented on what he has done as head of the Joint Requirements Oversight Council (JROC) in relation to reviewing the NGI.
Hyten said the JROC realized "that we had not done our due diligence in stating what the military requirements would be for those kind of capabilities and we had missed that. So, we asked the NGI program to come into the JROC, explain what's going to go on and allow us to add military advice into that concept, which is basically what we did."
He explained that JROC adding the military advice to the NGI concept led to the NGI program adjusting requirements "holistically across the board."
He also noted DoD has to do two things going forward: continue to look at the requirements from a capabilities perspective and a feasibility perspective to make sure the interceptor can be built and will operate in the threat environments defined, but also pay attention to the cost.
"Then we have to look at the cost and make sure that when you look at the entire missile defense and defeat portfolio, that it fits in the overall architecture. Which comes back then to the integrated air and missile defense portfolio, to make sure that it's just not looking at NGI alone, it's looking at all of air and missile defense and making sure that we have an integrated approach from a requirements perspective," Hyten said.
He underscored that otherwise, if you look at it stovepipe by stovepipe, "you end up with probably an unaffordable architecture to deal effectively with the threat."
Last year, Missile Defense Agency director Vice Adm. Jon Hill said the agency was taking the unusual step of working with Hyten as head of the JROC (Defense Daily, March 10).
Hill said Hyten wanted to see how the agency was doing on hitting "knowledge points" along the way to make sure the overall DoD understands if it is making the right amount of investment in the new interceptors.