The U.S. on Friday approved a new weapons aid package for Ukraine worth approximately $400 million, which includes funds to refurbish Soviet-era Czech Republic tanks that will be sent to Kyiv to assist in its fight against Russia's ongoing invasion.
Sabrina Singh, the Pentagon's deputy press secretary, told reporters the first of the refurbished T-72 tanks will be available for Ukraine before the end of December, with deliveries to be completed in 2023.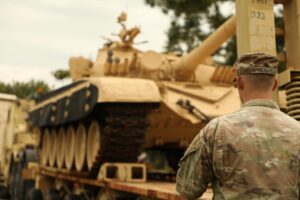 "These are Soviet-era tanks. These are tanks that the Ukrainians know how to use on the battlefield," Singh said during a press briefing on Friday. "In terms of why aren't we providing new tanks or American tanks, introducing a new main battle tank is extremely costly, it's time sensitive and it would be a huge undertaking for the Ukrainian forces. We do continue to consult with our allies and partners to assess our ability on what we can provide in terms of Western armor platforms. But these tanks we believe will make a difference on the battlefield."
The new Ukraine Security Assistance Initiative (USAI) package, which includes capabilities and equipment refresh efforts to be procured directly from industry, includes paying the Czech defense industry to refurbish 45 T-72 tanks with advanced optics, communications, and armor packages.
The Pentagon on Friday noted the Netherlands has also agreed to provide an additional 45 T-72B tanks for Ukraine.
"This agreement between the Czech Republic and the Netherlands is a direct outcome of the Ukraine Defense Contact Group," Singh said.
Ukrainian President Volodymyr Zelenskyy last week noted Ukraine's continued interest in receiving Abrams tanks as part of future U.S. security aid packages (Defense Daily, Oct. 28).
"Unfortunately, we haven't got any tanks from the U.S. We would love to see Abrams [tanks] here, if there would be a possibility or an opportunity. We already know the support that European countries could provide us with in terms of armored vehicles, tanks, etc." Zelenskyy said via English translation during a Yale School of Management discussion.
Friday's USAI package also includes plans to procure 1,100 more Phoenix Ghost drones, 40 armored riverine boats and tactical secure communications and surveillance systems for Ukraine.
The deal also includes funds to refurbish 250 M1117 Armored Security Vehicles and to restore HAWK air defense missiles to be included in future drawdown authority packages, according to the Pentagon. The M1117 Armored Security Vehicle was originally supplied by Textron [TXT].

"With Russia's unrelenting and brutal air attacks on Ukrainian civilian critical infrastructure, additional air defense capabilities are critical. Funding to refurbish HAWK missiles will complement Spain's recent commitment of HAWK launchers to help Ukraine meet this threat," the Pentagon wrote in a statement.