The Pentagon is pushing out network equipment and secure devices by the thousands in its push to offer "maximum telework flexibility" during the ongoing coronavirus pandemic, officials said Monday, including rolling out a new virtual collaboration platform.
Dana Deasy, the department's chief information officer, told reporters he has established the COVID-19 Telework Readiness Task Force, which includes U.S. Cyber Command, DISA and each of the services, to meet the massive demand for telework capabilities.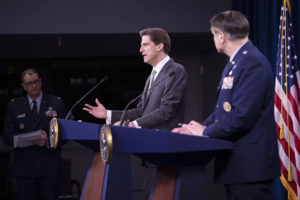 "With the majority of the workforce teleworking, we have seen unprecedented demand for new equipment ranging from tablets, laptops, network equipment and secure devices," Deasy said. "Additionally, our networks have seen significant increase in traffic as well. The task force has successfully navigated this increase in demand, and we are rolling out equipment and increasing network capacity where needed."
Deasy specifically noted the rapid creation of the new Commercial Virtual Remote work environment on March 27, which is providing DoD personnel with a cloud-based environment for work collaboration capabilities. 
The Pentagon has activated 900,000 user accounts on CVR as of Monday morning, according to Deasy.
"This is the largest rollout ever implemented in this short amount of time," Deasy said.
Deasy noted, since telework orders were put in place, the Pentagon has increased its remote internet service capacity by 30 percent, its call volume capacity by over 50 percent and its endpoint device capacity by 300 percent.
"You can see how the speed and magnitude of what the department has implemented in such a short amount of time is truly extraordinary. It's been accomplished while ensuring that mission operational needs are not impacted," Deasy said.
Air Force Lt. Gen. B.J. Shwedo, the Joint Staff J6, told reporters the number of remote personnel with access to DoD networks is increasingly daily, with the Army currently at 800,000 telework-enabled members and the Navy at 250,000, with plans to reach 500,000 remote users within three weeks.
Shwedo noted the transition over to remote connections has resulted in an increased frequency of cyber attacks directed at endpoint devices.
"There has been a surge of spear phishing related to COVID-19.  Of course, that's not surprising because most spear-phishing campaigns tend to exploit current events to produce convincing products.  DISA continues to update our IT systems to block new malware and threat products," Shwedo said.