The Secretary of Defense said Wednesday the Pentagon could consider allowing Turkey to rejoin the F-35 program if Ankara agreed to completely remove the Russian-made S-400 air and missile defense system from the country. 
Secretary Mark Esper told reporters during a press briefing the U.S. would have to see evidence that Turkey was no longer in possession of the S-400, and would not include keeping the system inactive and out of the field.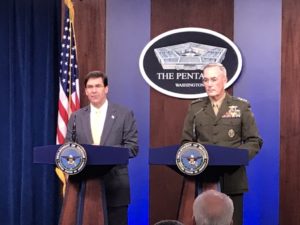 "It's either the F-35 or the S-400. It's not both. It's not park one in the garage and roll the other one out. It's one or the other," Esper said. "They would have to, again, get rid of the S-400 program, completely out of the country. And then we could consider that"
The White House in July announced Turkey's official removal from the F-35 program following its acceptance of the S-400, with plans to wind down Ankara's involvement in the program by next March (Defense Daily, July 17). 
Turkey will no longer receive over 100 of the F-35 fighter jets it had planned to purchase, with officials previously noting that the linking the S-400 with the Lockheed Martin [LMT]-built fighter jets could allow Russian to gain sensitive information on the aircraft.
Ellen Lord, the Pentagon's top acquisition official, told reporters in July the department will spend $500 million to $600 million to find alternative sources for Turkish-made F-35 parts.
At the time of the July announcement, Pentagon officials did confirm whether the decision was reversible if Turkey removed the S-400 or decided to switch course and buy the Raytheon [RTN]-built Patriot missile defense system. 
A State Department official told Defense Daily last week an offer for Turkey to buy the Patriot system has officially expired (Defense Daily, Aug. 22).
Both Esper and Marine Gen. Joseph Dunford, the chairman of the Joint Chiefs of Staff, affirmed their support for Turkey as an ally and noted that the U.S. and Ankara continue to maintain a dialogue on mutual interests. 
"When I look at Turkey and the United States, it's very clear to me that we have many more areas of convergence than divergence. And many of these areas of divergence are near-term issues, difficult issues no question about it, but they're issues that we can work through," Dunford told reporters.