Sen. Johnny Isakson (R-Ga.), the chairman of the Senate Veterans' Affairs Committee, saud Aug. 28 that he would resign at the end of 2019, three years before his term is scheduled to end.
The lawmaker, who was elected to the U.S. Senate in 2005 after serving in Georgia's House of Representatives and Senate as well as the U.S. House of Representatives, cited mounting health concerns for his reason to leave Capitol Hill.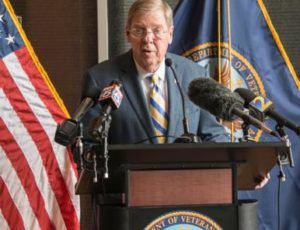 "After much prayer and consultation with my family and doctors, I have made the very tough decision to leave the U.S. Senate at the end of 2019," he said in a release Wednesday. "It has been the honor of a lifetime serving the state of Georgia. This decision pains me greatly but I know it is the right thing to do."
Sen. Jerry Moran (R-Kan.), the number-two Republican on the veterans' affairs committee, is widely expected to take up the gavel come Jan. 1, 2020. The final decision would be up to Senate Majority Leader Mitch McConnell (R-Ky.), who did not confirm who would become chairman as of Defense Daily's deadline Wednesday. A spokesperson for the Senate Veterans' Affairs Committee confirmed in an email that Isakson would continue to serve as chairman through the end of 2019.
Isakson, 74, was last elected in 2016, and would have run for reelection in 2022. He announced he had been diagnosed with Parkinson's Disease in 2015 and has been recovering from a fall this past July where he fractured four ribs. A former real estate mogul, he served in the Georgia Air National Guard between 1966 and 1972.
Georgia Governor Brian Kemp (R) praised Isakson's service in a statement Wednesday, and said he will appoint a replacement "at the appropriate time." Whomever is selected to take over Jan. 1, 2020, will have to run in a special election in order to complete the rest of Isakson's term.
"What Georgia should be most thankful for is the high standard that Johnny held as a true gentleman, a fighter for his constituents, a trusted advocate for our nation's veterans, and one of the greatest statesmen to ever answer the call of service to our country," Kemp said.
The news means that Georgia will be voting for two new senators in 2020, as the state's junior legislator, Sen. David Perdue (R), is also up for reelection. Perdue is the chairman of the Senate Armed Services Committee's (SASC) Seapower Subcommittee, and currently faces three Democrat challengers.
Perdue said in a Wednesday statement that "It is my high honor to serve as Johnny's partner in the United States Senate."
"Like so many Georgians, I was surprised and saddened to learn that he will not finish the rest of his term. Together, we are able to get real results for Georgia," he said.
Senate Veterans' Affairs Committee Ranking Member Jon Tester (D-Mont.) called Isakson "a trusted friend, first-class public servant, and the best advocate this country's veterans could ask for" in a Wednesday statement. "I want to thank him for his service to this country—and for bringing civility and bipartisanship to the Senate, where he will be sorely missed."
Isakson was a vocal supporter and sometimes critic of U.S. military procurement plans. In 2018, he challenged the Air Force's decision to scrap a recapitalization program for the Joint Surveillance Target and Attack Radar System (JSTARS) program (Defense Daily, Feb. 12, 2018). The JSTARS fleet has been stationed at Robins Air Force Base, Georgia, since 2002.
Isakson also joined lawmakers in lobbying for the Air Force to retain the A-10 attack aircraft when the service proposed its retirement in 2015, and supported including funds to keep the F-22 Raptor production line going in the fiscal year 2010 National Defense Authorization Act, which was ultimately unsuccessful.
Defense contractors have spent $186,750 on Isakson's Senate campaigns since 2005, according to the nonprofit Center for Responsive Politics. Defense-related political action committees spent $68,000 on his 2016 reelection campaign, while individual contributions totaled nearly $14,000.