A newly proposed $908 billion COVID-19 relief package from a bipartisan group of senators includes extending a provision allowing defense contractors to submit pandemic-related claims for reimbursement through the end of April 2021.
The proposal, unveiled by lawmakers on Monday, does not look to include appropriations for billions of dollars that the Pentagon has called for to help cover the costs.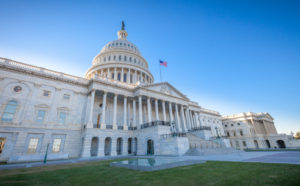 The period to submit claims under Section 3610 authority from the CARES Act, which provides assistance for the defense industrial base's efforts to keep workers employed during the pandemic, is currently set to expire on Dec. 18. 
Last week, a group of defense industry CEOs and industry associations sent two letters to Congress urging an extension of Section 3610 through the end of fiscal year 2021 (Defense Daily, Dec. 11). 
Ellen Lord, the Pentagon's top acquisition official, has previously told Congress the department could face impacts to readiness and modernization if the department has to dip into its own accounts to provide Section 3610 reimbursements. 
Lord has said the industry's COVID costs could total between $10 billion to 20 billion (Defense Daily, Sept. 9).