The Navy officially decommissioned the fire-ravaged amphibious assault ships USS Bonhomme Richard (LHD-6) during a ceremony at Naval Base San Diego on April 14.
A fire heavily damaged the Wasp-class ship for four days last July while it was finishing  routine pierside maintenance availability in San Diego (Defense Daily, July 17, 2020).
Then in November the service revealed it decided to retire LHD-6 because it would be too costly to fix or convert it to another use compared to just building other new ships. The fire ultimately damaged about 60 percent of the ship requiring part replacements in the island, mast, flight deck, and most computer systems and sensors in those areas (Defense Daily, Nov. 30, 2020).
LHD-6 was 22 years old and had an expected service life of 40 years.
The Bonhomme Richard was built by Huntington Ingalls Industries [HII] at its Ingalls Shipbuilding facility in Pascagoula, Miss. The company also builds the new America-class LHA amphibious assault ships.
Chief of Naval Operations Adm. Mike Gilday told a Senate panel in December that if the Navy tried to rebuild the ship into an LHD in its original state it would take five to seven years while straining the industrial base and it would cost almost as much as a brand new ship (Defense Daily, Dec. 2, 2020).
In contrast, Gilday said the decommissioning process would cost $30 million.
Moreover, former Secretary of the Navy Kenneth Braithwaite told a Senate panel that "using logic and looking at what it would've required to put that ship back together, it would've been a foolish investment of our American taxpayer dollars to invest in a ship that was over 20 years old instead of looking at the options of building another ship in the future that would have more relative capabilities, embracing the technologies that are emerging."
The decommissioning ceremony highlighted the ship's history. LHD-6 was the third ship to bear the name and it was named in honor of John Paul Jones' famous frigate, the French equivalent name of Good man Richard. The Navy said this was in honor of Benjamin Franklin and his pen name, at the time U.S. ambassador to France.
Due to the COVID-19 pandemic, the decommissioning event was closed to the public. 
As a Wasp-class amphibious assault ship, the Bonhomme Richard served as the core of Amphibious Ready Groups or Expeditionary Strike Groups (ESGs), transporting and landing elements of the Marine Expeditionary Unit or Marine Expeditionary Brigade.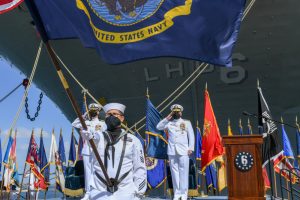 Over its service life, LHD-6 served in Operation Stabilize in February 2000 to provide peacekeeping and humanitarian operations off the coast of East Timor; deployed for Operation Iraqi Freedom to deliver over 1,000 Marines and their equipment and ultimately launching over 800 sorties; then in 2012 it served as the ESG Strike Group 7 command ship, based in Japan. The ship returned to San Diego in 2018 for a homeport change and prepared for maintenance work.
Four investigations into the fire are still ongoing, including a Naval Criminal Investigative Service criminal investigation; a command investigation led by commander of 3rd Fleet Vice. Adm. Scott Conn; a Naval Sea Systems Command (NAVSEA) failure review board focusing on safety, structural and design issues and how changes can be made to prevent a similar fire in the future; and a NAVSEA safety investigation board looking at what took place compared to existing policies and procedures.
"As BHR [Bonhomme Richard] Sailors disperse throughout the fleet, take the teamwork, spirit, and unity to your next command. For this crew and what we experienced together is the embodiment of our core values of honor, courage, and commitment. The resiliency I saw—man or woman, seaman and up to our highest ranks, united in our common cause and strength to depend on each other—lived up to my motto of train to fight and fight to win. It has been my honor and absolute privilege to serve as your commanding officer," Capt. Gregory S. Thoroman, Bonhomme Richard's commanding officer, said during the ceremony.
The service started the decommissioning process in February, when contractors started removing the ship's island as part of inactivation availability. The Navy said it removed the island first to improve structural integrity and readiness so it can better be towed for dismantlement. 
Following the decommissioning ceremony, LHD-6 will be towed to International Shipbreaking Limited, LLC's facility in Brownsville, Texas for dismantlement.