The head of U.S. European Command told lawmakers Thursday his top capability gap is bolstering the region's capabilities for secure indications and warning and command and control systems, as Russia aims to proliferate advanced electronic warfare and drone swarming.
Air Force Gen. Tod Wolters also cited the F-35 strike fighter and plans to bring two more destroyer ships to Europe by 2026 as key components for deterring Russian aggression.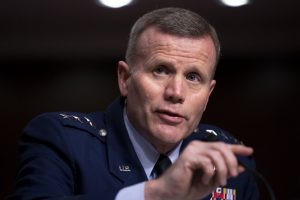 "The F-35 contributes to campaign momentum strategically for indications and warning, command and control and, obviously, lethality. We have 81 [F-35s] total in Europe right now that our NATO allies and partners are using," Wolters said during a House Armed Services Committee (HASC) hearing. "It gives us access to be able to deter effectively anywhere on the European continent. And, if called upon to conduct interdiction, it allows to put any target in risk, plus or a minus a millisecond, with great accuracy and allowing for access to do the same."
Wolters said the destroyers are EUCOM's "warhorses of deterrence," noting there are four in the region currently, and called the ships a critical asset for detecting Russia's increasing undersea activity in the vicinity of the Greenland, Iceland and U.K. gap.
"The destroyers' participation in the undersea warfare [command and control] is absolutely, positively critical," Wolters said. "As we continue to do the math, for basic needs to cover down adequately, we believe that two more [destroyers] is what is required."
Rep. Adam Smith (D-Wash.), the HASC chairman, reiterated his view that he believes secure command and control should be a prime focus on investment, specifically as it relates to new challenges in the European region.
"Whoever possesses the best information is in the best position to be successful and there are a lot of technologies that are key to this, certainly artificial intelligence because you also have to process whatever information is coming in," Smith said during the hearing. "I think we're headed in the right direction, but we have to make intelligent purchases and put in place the right acquisition strategy to do that, to get where we need to be, to have the best information systems and to be able to protect them. And ideally, we'd be able to make vulnerable the information systems of our adversaries."
Wolters said he believes proliferating emerging technologies, such as artificial intelligence, would provide an "enormous help" to bolstering EUCOM's command and control capabilities.
"It allows us to see the battlespace earlier. It allows to approach and neutralize a target at greater range with greater speed, so those are all very helpful," Wolters said.
When asked about the growing threat of drone swarming in the region, Wolters noted the Army has been designated the lead entity for developing counter-small unmanned aircraft system requirements and said future developments could be used to improve the capabilities of European partners. 
"In Europe, we have to ensure, from an indications and warning standpoint, our integrated air and missile defense programs take into account the capabilities of these systems. They do, [but] it's not good enough. We have to continue to improve. It's a program that's funded. We know what the requirements are," Wolters said.
Countering and deterring the growing electronic warfare (EW) threat will also require "very good indications and warnings" and "very protected command and control architectures," according to Wolters. 
"We feel reasonably comfortable, congressman, with the gear that we have in place. The biggest area is to ensure the training keeps pace with the adversary's EW TTP, tactics, techniques and procedures. My assessment in EUCOM is we're in pretty good shape. We pay close attention to advancing EW technologies that Russia utilizes," Wolters said.