The Navy's latest future aviation vision plans expects the service to save $300 million annually due to a maintenance effort and leaves out earlier consideration of adding a light carrier to the future force.
The report, Navy Aviation Vision 2030-2035, said the Navy has working groups helping to improve survivability, sustainment and lethality in the naval aviation field. In this case, the Naval Sustainment System-Aviation (NSS-A) project has a cost mission that aims to identify initial and recurring costs needed to sustain an increased number of mission capable aircraft now and in the future.
"It has identified meaningful levers that influence cost, to include Foreign Object Debris (FOD) prevention, Maintenance Reset, a fully integrated supply chain management system, optimized commercial and organic maintenance, and improved pricing postures. This effort is on track to achieve a cost reduction of $300 [million] annually, the Navy Aviation Vision 2030-2035."
NSS-A was started in 2018 to learn and use the best practices in the commercial aviation industry to update and improve the Navy's practices at maintenance depots. It was established by then-Secretary of the Navy Richard Spencer and then-commander of Naval Air Forces Vice Adm. DeWolfe Miller.
The Navy released an unclassified version of this vision report on Oct. 29. It supersedes the previous Vision for Naval Aviation 2025 and lays out three key elements for the future force: delivering capability and capacity to win in great power competition, generating future readiness across the force and achieving revolutionary training.
The report is in sync with Secretary of the Navy Carlos Del Toro's new strategic guidance, released earlier in October that focused on deterrence and advances against China (Defense Daily, Oct. 8).
The Navy Aviation Vision said U.S. adversaries have demonstrated the ability to develop and use an increasing number of high-end capability "at a pace not seen since the height of the Cold War. Anticipated adversary threat capabilities will be more complex, more disruptive, and more lethal."
By the early 2030s Naval Aviation expects to face "increased People's Liberation Army Navy (PLAN) aircraft carrier inventory; improved People's Liberation Army Air Force (PLAAF) capabilities and capacity (to include fighters, bombers, and special interest aircraft); advanced kill chains that extend over great distance; proliferation of complex threat emitters; Command, Control, Communications, Computers, Intelligence, Surveillance, Reconnaissance, and Targeting (C4ISR&T) networks; [and] Information warfare attacks," the report continued.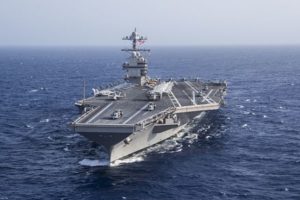 The report highlighted the importance of manned/unmanned teaming (MUM-T) in the future force that the Navy must invest in.
"MUM-T reduces risk to the manned aircraft resident within the CVW, while simultaneously increasing capability, capacity, and survivability. Unmanned Air Systems (UAS) will fill diverse roles in the future air wing and the distributed surface Fleet in missions such as refueling, communications relay, logistics, airborne electronic attack, strike, and ISR&T."
The report noted the MQ-8B will retire in fiscal year 2024 and be replaced by the MQ-8C . It also said the Navy will start training its first Air Vehicle Officers for unmanned systems in Pensacola, Fla., to operate the MQ-25A Stingray unmanned tanker starting in fiscal year 2024.
Separately, the report noted the MQ-4C is expected to achieve Initial Operational Capability in 2023.
However, this report makes no mention of light carriers, an idea that gained steam through last year as a way to potentially lower the number of current supercarriers and even lower overall costs.
Indeed, it argued large-deck nuclear-powered super carriers (CVNs) "are the most survivable, agile, resilient, and lethal airfields in today's security environment and will remain so for the future. Large size supports an air wing with enough aircraft to simultaneously conduct long-range power projection, sea control, and surveillance missions in nearly all environmental conditions and sea states."
"FORD CVNs serve as the cornerstone of a lethal, agile, resilient, and readily adaptable distributed maritime force required by the National Defense Strategy," it added.
Last year, former Secretary of Defense Mark Esper said his Battle Force 2045 plan for the Navy would add light carriers to supplement the traditional nuclear-powered carriers, allowing the Defense Department to ultimately lower the current goal of 12 carriers. He said pending further study the plan was for a future force to feature eight to 11 super carriers and up to six light carriers (Defense Daily, Oct. 6, 2020).
That month, Chief of Naval Operations Adm. Mike Gilday defended the idea of including the light carrier idea on the long-range plan and said they might be focused on surveillance, reconnaissance and targeting issues, which he identified as a gap for the Navy. The CNO said light carriers could supplement the super carriers focusing more on long range strike (Defense Daily, Oct. 13).
Concurrently, former Secretary of the Navy Kenneth Braithwaite said he pushed for the lower end of the future super carrier range to be higher, knowing it would receive a lot of attention. He argued light carriers can be very useful by noting the category's utility in World War II and that they may feature dozens of unmanned aircraft as part of the future air wing (Defense Daily, Oct. 29, 2020).
However, by last December, Chairman of the Joint Chiefs of Staff Army Gen. Mark Milley said he did not recommend replacing supercarriers unless there was something better to replace them (Defense Daily, Dec. 3, 2020).
"So maybe we have five or six jeep carriers and maybe once those are commissioned, they're at sea, they've gone through their trials, then maybe you think about coming down from 11 to some other number. But we're not sure yet," he said.
Later that month, a senior Navy official told reporters that in FY '22 the department would analyze the carrier force in a way that will inform the future carrier force and how alternative carriers might be useful (Defense Daily, Dec. 14, 2020).
However, since the changeover to the Biden administration, Navy plans have not explicitly mentioned light carriers in future plans.
The shortened long-range shipbuilding plan submitted by the Biden administration in June only vaguely alluded to studying future carrier solutions. It said the Navy is still studying a range of solutions to maintain sea control like the future aircraft carrier, but did not mention light carriers (Defense Daily, June 21).