Secretary of the Navy Kenneth Braithwaite on Wednesday confirmed the service plans to procure more than 20 new Constellation-class (FFG-62) frigates, suggested selling the hull to allied states akin to the F-35, and explained how a new light carrier could be useful.
The Navy has been planning to purchase a total of 20 Constellation-class frigates, but "we'll build more than that," Braithwaite said during a U.S. Navy Memorial SITREP speaker series event.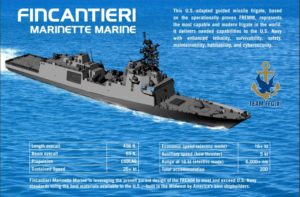 The secretary, in part, fleshed out some details to the Navy future fleet study that led to Battle Force 2045, outlined by Secretary of Defense Mark Esper earlier this month. Esper said the plan calls for 60 to 70 small surface combatants, more than previously planned, and DoD is looking at eight to 11 super carriers plus up to six light carriers supporting short take off or vertical landing aircraft (Defense Daily, Oct. 6).
"We're looking to build 60 to 70 small surface combatants. And these frigates are a lot different than the Knox-class or the Oliver Hazard Perry-class frigates…these are highly capable, sophisticated weapons platforms projecting sea power around the globe," Braithwaite said
When asked about National Security Adviser Robert O'Brien's comments earlier this week that the Navy needs to build more than the planned two frigates per year, Braithwaite welcomed the support.
While visiting the Fincantieri Marinette Marine Shipyard in Wisconsin on Oct. 26, O'Brien told local media that "we're going to need two, three, four frigates built a year to get to the numbers where we want to be and this yard has the capability to build two or three them itself."
The Navy Secretary said "it's great to have that kind of support in the White House and I'd love to see us build [more].
"So, yes, 20 is what we're projecting now but we will build more than 20 of those," he added.
Separately, Braithwaite floated an idea to share the FFG-62 with allies akin to the F-35 Joint Strike Fighter.
"I have a concept in my head is we created a Joint Strike Fighter that we could share with NATO allies. Why can't we create a Joint Strike Frigate? Why can't we take that same platform and offer it to our allies and partners around the world?" Braithwaite said.
"After all, it is an amalgamation of an Italian-U.S. joint effort to build that ship in a U.S. shipyard, right? So it's already got international footprint and so why couldn't our friends in the Royal Navy think if they're building a new frigate, that that might be the hull or our friends in Norway or our friends around the globe," he added.
The Navy Secretary also explained how new light carriers could be useful and shift traditional super carriers away from some regions.
"I know there's a big question around eight to 11 – I was pushing toward a little higher number on the lower side because I knew everybody was going to go after that," Braithwaite said.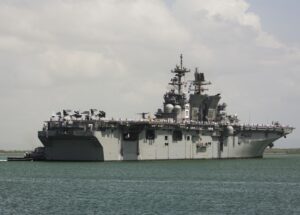 He noted the service is not turning away from carriers and they will not go away but "we've got to figure out the right number, the right number we can afford, the right number we require."
Braithwaite underscored the potential utility of light carriers by noting in World War II "we we won the battle of the Atlantic on the backs of CVLs light carriers that were able to give us [anti-submarine warfare] advantage over the U-Boat threat. When you look and you think about the threat that emanates from the Atlantic today it's a little different."
"The submarine capability of Russia has gotten more challenging, more concerning. So maybe there's a way we can shift and perhaps take some of those strike groups and put them where the threat is greater and supplant that with another asset that we believe will bear a lot of promise in the future," he continued.
He underscored the Navy does not know what the future carrier air wing will look like and a light carrier might be able to hold a big part of it, especially if includes many smaller unmanned aircraft.
"Are they all going to look like Joint Strike Fighters or F/A-18s? Or are they going to be smaller unmanned? And, therefore, do I have the same punch on a CVL that I have on a CVN today?"
Braithwaite said a future 750- to 800-foot long light carrier might be able to carry 100 unmanned aircraft if they are part of the future air wing, "so that's the excitement."