With less than a week until the election, the defense contractor community has targeted contributions to several senators facing tough reelection campaigns, as Congress is set to face growing pressure on defense spending levels while facing flat budgets in coming years and calls for cuts from progressive lawmakers.
Current polling predicts tight races for several Republican incumbents on the Senate Armed Services (SASC) and Senate Appropriations Defense Subcommittees (SAC-D), along with indications Democrats are in position to potentially regain the Senate.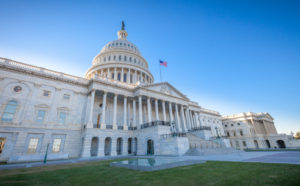 For SASC, Sen. Martha McSally (R-Ariz.) is trailing her Democratic opponent, former NASA astronaut Mark Kelly, in the latest polls, and the Cook Political Report has Sens. David Perdue (R-Ga.), Joni Ernst (R-Iowa) and Thom Thillis (R-N.C.) facing "toss-up" elections heading into the home stretch.
To date, according to the Center for Responsive Politics, Raytheon [RTN] has contributed nearly $75,000 to McSally's campaign, while Lockheed Martin [LMT] has donated $26,000, General Dynamics [GD] with another $26,000 and both Boeing [BA] and Northrop Grumman [NOC] at over $24,000.
McSally, a retired A-10 pilot, has long advocated for the aircraft's continued operations and pushed for a provision in the Senate's version of the next defense policy bill seeking to prohibit the Air Force from retiring the platform (Defense Daily, June 25).
Perdue, who serves as chairman of the SASC Seapower Subcommittee, represents Robins Air Force Base in Georgia, where the 461st Air Control Wing currently flies E-8 JSTARS aircraft, and has recently led an effort to have the Air Force provide greater transparency into its Advanced Battle Management System program (Defense Daily, June 3).
Meanwhile, Ernst, who serves as the chair of the SASC Emerging Threats and Capabilities Subcommittee, has received $31,000 from Raytheon toward her campaign.
SASC member Doug Jones (D-Ala.) is also facing a challenging race, according to the latest polls, against Republican Tommy Tuberville, the former head football coach at Auburn.
Jones has been a strong advocate for basing the new U.S. Space Command in Alabama, with a decision expected to be made after the election, but faces tough reelection prospects as a Democrat in the deep red state. Raytheon has contributed over $16,000 to Jones' reelection bid to date, according to the Center for Responsive Politics.
On the SAC-D panel, both Sens. Lindsey Graham (R-S.C.) and Susan Collins (R-Maine) are facing races now deemed "toss-up" with their Democrat opponents.
Graham, to date, has received more than $20,000 from General Atomics and over $17,000 from Boeing toward his reelection bid, while General Dynamics has contributed over $50,000 to Collins for her campaign.
Collins has recently pushed for the Pentagon to mitigate cash flow for contractors facing COVID-related impacts, joining her Maine delegation counterparts over concerns regarding the pandemic's impact on General Dynamics' [GD] Bath Iron Works employees (Defense Daily, March 20).
However, Collins' opponent, Democrat Sara Gideon, has received the endorsement the Maine State Council of Machinists, which includes Bath Iron Works' two largest unions, according to the Portland Press Herald.
Bath Iron Works, which employs over 6,000 Maine citizens, is currently building the Arleigh Burke-class DDG-51 destroyers and finishing Zumwalt-class DDG-1000 destroyers.
Leadership for SASC, Sens. Jim Inhofe (R-Okla.) and Jack Reed (D-R.I.), and SAC-D, Sens. Richard Shelby (R-Ala.) and Dick Durbin (D-Ill.), are all in safe reelection bids, but the panels are facing a possible change in party leadership as polls indicate Democrats with a fighting chance of taking the Senate.
For the House Armed Services Committee, the lawmaker facing the toughest reelection bid is Rep. Don Bacon (R-Neb.). Democrat Kara Eastman nearly beat Bacon last election cycle, and holds a slight lead in the latest polling.
Bacon, a retired Air Force brigadier general, represents Nebraska's second district adjacent to Offutt Air Force Base and has been a proponent for securing funds to pay for training and ground mission equipment for RC-135 reconnaissance aircraft damaged in storms in the Midwest over the last year.
The House's version of the FY '20 NDAA includes an amendment from Bacon that would shift $200 million from DoD operations and maintenance funds and various Air Force procurement and research-and-development dollars to pay for the RC-135 repair costs (Defense Daily, July 10).
Rep. Mac Thornberry (R-Texas), the HASC ranking member and former chairman, is retiring. The battle to replace him in the Texas 13th District pits former White House physician and retired Navy admiral Ronny Jackson against Democrat Gus Trujillo.
A key area to follow is who will succeed Thornberry as HASC's top Republican, following a period of relative bipartisanship on the committee that resulted in a swift, less contentious mark-up process for the latest National Defense Authorization Act.
Byron Callan, an analyst with Capital Alpha partners, predicts a change in committee leadership won't necessarily indicate major changes for defense priorities in the Senate.
"A Democratic majority in the Senate is not likely to appreciably change the outlook for defense spending and we have seen no projections that show the GOP gaining a majority in the House," Callan said. "If the GOP can retain its majority in the Senate, this is a recipe for legislative grid-lock in 2021 and 2022, which would not be a positive for defense."
However, if former Vice President Joe Biden wins the election and Democrats regain the Senate, a primary point of contention will likely focus around defense spending levels.
Rep. Adam Smith (D-Wash.), the HASC chair, said recently he sees a big fight coming" among Democrats over the Pentagon's budget, including a burgeoning push from progressive lawmakers for a 10 to 20 percent cut in spending.
Smith said he is "unconvinced" on pursuing a deep cut to the defense budget, while saying he's open to a conversation on a potential reduction, while predicting that spending is likely to be "somewhere in the $720 [billion] to $740 [billion] range going forward" (Defense Daily, Oct. 21).