Last month, the Navy said the CH-53K King Stallion heavy lift helicopter was ready for full rate production (FRP), which is expected to increase production to over 20 units per year.
The full rate production decision was signed off by Jay Stefany, Acting Assistant Secretary of the Navy for Research, Development and Acquisition, in a Dec. 21 Acquisition Decision Memorandum. The Navy announced the decision on Dec. 23.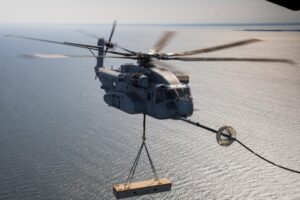 The Navy said full rate production generally occurs at the end of low-rate initial production (LRIP), following a review of the results of Initial Operational Test and Evaluation (IOT&E), Live Fire Test and Evaluation, production readiness reviews, risk, and affordability analyses.
CH-53K is built by Sikorsky, a Lockheed Martin [LMT] company. It is a heavy lift sea-based helicopter with almost three times the lift capacity of the legacy CH-53E model.
The CH-53K is powered by three General Electric [GE] T408-GE-400 turboshaft engines with 57 percent more horsepower and 63 percent fewer parts than the CH-53E.
Sikorsky underscored it expects the Marine Corps CH-53K orders to increase to upward of 20 helicopters annually in the coming years following this decision.
"Ramping up production of the most technologically advanced helicopter in the world allows the U.S. Marine Corps to build out its CH-53K King Stallion fleet and support mission success," Bill Falk, director of the Sikorsky CH-53K program, said in a statement.
"This production authorization stabilizes Sikorsky's domestic supply chain and is a testament to our enduring partnership with the Marine Corps," Falk added.
The Navy and Marine Corps previously procured 40 helicopters in recent years and the FY '23 annual defense authorization act included authority for the service to enter into a block buy contract over 2023-2024 to buy up to 30 CH-53K helicopters.
The Navy Department plans to buy another 68 helicopters after FY '27 and has an approved acquisition objective to ultimately buy 196 CH-53Ks in regular procurement funds plus four previously procured as demonstration test articles, for 200 total.
A Sikorsky official in 2021 said the company was delivering each CH-53K about once every three months under LRIP, but expected that the rise to two per month once entering full rate production and ultimately three per month when including expected international orders. Sikorsky plans to eventually be able to deliver 36 helicopters per year (Defense Daily, Aug. 4, 2021).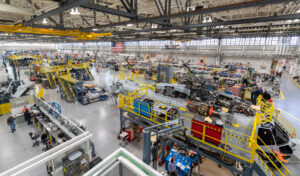 The company noted it is currently procuring "long-lead items and critical materials to support building full rate production CH-53K helicopters in its digital factory."
Sikorsky also said the CH-53K production base includes more than 200 suppliers over 34 states.
Col. Kate Fleeger, H-53 Heavy Lift Helicopters Program (PMA-261) program manager, noted the importance of this milestone because it allows the program to move forward and start increasing procurement quantities, which it expects to improve production efficiencies and reduce unit costs through those suppliers.
"We have successfully demonstrated the performance and reliability of this aircraft. With FRP we will continue to build on the strong manufacturing, sustainment and support that has been established for the CH-53K," Fleeger said in a statement.
The Defense Department said the Marine Corps is continuing its transition from the CH-53E to the CH-53K and is on schedule to declare Full Operational Capability in fiscal year 2029.
Last April, the Marine Corps announced the CH-53K achieved initial operational capability (Defense Daily, April 25, 2022).
The service plans to deploy the first CH-53K Marine Expeditionary Unit detachment in fiscal year 2024.
The helicopter is meant to complement connectors that enable littoral maneuver and provide logistical support to a more disaggregated naval force, according to the Marine Corps Commandant's Force Design 2030 Annual Update from 2022.