The Navy awarded Lockheed Martin's Sikorsky [LMT] a $2.8 billion modification to procure another 35 full-rate CH-53K King Stallion heavy lift helicopters.
This award specifically adds scope to a previous contract for 12 Lot 7 and 15 Lot 8 block buy Marine Corps helicopters and eight Israel helicopters as well as associated aircraft and programmatic support, logistical support and spares.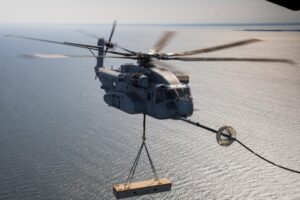 The work is expected to be finished by December 2027 while Sikorsky said it will start delivering the aircraft in 2026.
The company underscored this is the largest procurement for the CH-53K thus far.
$991 million in fiscal year 2023 Navy aircraft procurement funds and $325 million in Foreign Military Sales customer funds were obligated at the time of award.
The top executive at Sikorsky said this contract will help stabilize the company's supply base as it ramps up production.
"This contract award for 35 CH-53K helicopters stabilizes Sikorsky's nationwide supply base, creates additional production efficiencies, and provides the U.S. Marine Corps with transformative 21st century technologies," Paul Lemmo, president of Sikorsky, said in a statement.
The Marine Corps announced the CH-53K previously reached Initial Operational Capability in April 2022 (Defense Daily, April 25, 2022).
By December 2022 the Navy declared full-rate production for the CH-53K and Sikorsky said it expects to increase production to over 29 helicopters annually "in the coming years."
The CH-53K is meant to replace the older CH-53E helicopter, but with three times the lift capacity and able to transport the full amount of the vertical Marine Air-Ground Task Force (MAGTF).
The Marine Corps plans to deploy the first CH-53K marine Expeditionary Unit detachment in fiscal year 2024.
In 2021, the State Department approved a potential $3.4 billion deal for Israel to buy up to 18 CH-53Ks to replace their legacy CH-53D Yasur helicopters (Defense Daily, July 30, 2021).
Sikorsky said these eight helicopters bound for Israel are on top of the first four previously agreed to in 2022 under FMS authorities.