The Missile Defense Agency's (MDA) $9.6 billion fiscal year 2023 budget request includes increases for various missile defense interceptors, Guam defense, and increased research and development funds over the previous year.
MDA's request is split among $7.9 billion in research and development, $1.166 billion in procurement, $542 million in operations and maintenance and $47 million in military construction. The research and development funds are over $600 million more than Congress appropriated in FY '22 but the procurement request is $1.445 billion less than the $2.6 billion Congress funded in the final FY '22 budget.
MDA originally requested $8.9 billion in FY '22, but Congress increased it to $10.4 billion, the second year in a row Congress increased MDA's budget over the original request.
"What we're focused on today is dealing with a very formidable and evolving threat and so every penny that we're spending in the '23 budget is focused on how we deal with those threats across a multiple set of interesting scenarios," MDA Director Vice. Adm. Jon Hill said during the March 28 budget briefing.
MDA is requesting $89 million for the Hypersonic and Ballistic Tracking Space Sensor (HBTSS) to deliver space vehicles for launch vehicle integration and finished development and implementation of the ground system. The agency said this is leading to a launch and on-orbit experimentations scheduled for the second quarter in FY '23. It is also requesting $27 million to continue the Space-based Kill Assessment (SKA) integration into the missile defense system.
The HBTSS began in 2018 and early last year Northrop Grumman [NOC] and L3Harris Technologies [LHX] won contracts to each develop on-orbit prototype tracking satellites.
In missile defense radars, the agency requests $504 million to upgrade and sustain 12 Raytheon Technologies [RTX] AN/TPY-2 radars as well as finish the FY '21 computer processing unit (CPU) procurement for 1 more radar to total 13 radars. The TPY-2s are primarily used in the Terminal High Altitude Area Defense (THAAD) system and also independently.
MDA is also seeking $75 million to continue work on the Lockheed Martin [LMT] S-Band Long Range Discrimination Radar (LRDR). Initial fielding of the LRDR began in December at Clear Space Force Station, Alaska (Defense Daily, Dec. 7, 2021).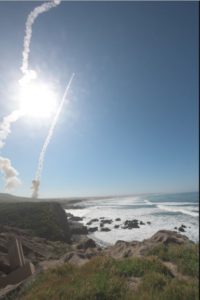 Rounding out radars, the agency wants $165 million for the Sea-based X-band Radar (SBX) to continue operations at sea and procure a replacement for the radome and $20 million to continue refurbishment and life extension of the Cobra Dane radar.
MDA is asking for $569 million total for the Command and Control battle management and Communications (C2BMC) system, which integrates missile defense sensors and interceptors through global networks. Beyond regular sustainment and upgrades to the system, MDA intends to use these funds to integrate the LRDR into homeland defense-based missile defense. This work was delayed into FY '23 due to the COVID-19 pandemic, the agency said.
Under the engagement category, MDA is requesting significant funds for more interceptor developmemt and missiles.
The agency is requesting $2.8 billion for the Ground-based Midcourse Defense (GMD) system to fund sustainment and improve performance, reliability, availability and cybersecurity resilience over the five-year Future Years Defense Program (FYDP). GMD aims to defend the U.S. from ballistic missile threats from North Korea and Iran. This includes funds dedicated to upgrading Ground-based Interceptors (GBIs) and phased-array GBI communication terminal kits.
The GMD funds also continue development of the Next Generation Interceptor (NGI) that seeks to replace the GBIs with improved booster rockets and kill vehicles. Last year, MDA awarded two teams led by Northrop Grumman [NOC] and Lockheed Martin [LMT] initial technology development and risk reduction contract work for the new interceptors (Defense Daily, March 23, 2021).
The agency reiterated it is pushing to keep the competition operating at least through the critical design review to reduce risk and potentially double the production line after a downselect to one design.
"The request sustains and improves the performance reliability, availability and cybersecurity resiliency of the GMS weapon system throughout the FYDP," Alexandria Martinez, MDA comptroller and chief financial officer, said during the MDA budget briefing at the Pentagon on March 28.
MDA requests $1.6 billion for the Aegis Missile Defense system, which includes procuring 47 Raytheon Standard Missile (SM)3 Block IB missiles and 10 SM-3 Block IIA missiles. The funds also go toward developing, procuring and installing upgrades to Navy sensors on older ships and developing radar sensitive upgrades to the Navy's newest destroyers.
This comes after Congress provided $192 million in the final FY '22 budget for MDA to procure additional SM-3 Block IIA interceptors.
The agency seeks $422 million for the THAAD system to continue software development and upgrades to seven fielded batteries, complete procurement of an 8th battery, and procurement of three more interceptors.
MDA is requesting $539 million to continue designing, developing, procuring weapon components and initial military construction for the Guam defense mission. The agency revealed the initial architecture will consist of the existing THAAD system, destroyer-based Aegis missile defense system, SM-3 and SM-6 missiles and the Army's Integrated Air and Missile Defense Battle Command System (IBCS) (Defense Daily, March 29).
Under technology and testing requests, MDA seeks $39 million for advanced research and advanced concepts development, $563 million in systems engineering to combine various missile defense capability elements into a single integrated systems, and $361 million in missile defense system ground, flight and cybersecurity tests.
The test funds both maintain infrastructure and conduct tests such as a two-three stage selectable GBI in a two-stage mode and further THAAD-patriot interoperability tests.
MDA requests $225 million for the hypersonic defense to continue the Glide Phase Interceptor (GPI) development for regional hypersonic missile threats, leverage and upgrade existing systems for future demonstration, and continue development of "disruptive technologies and solutions" for future defense architectures.
During the briefing, MDA Director Hill said MDA is currently evaluating GPI proposals before a formal development effort.
In the FY '22 request, MDA sought $247.9 million to develop the layered defensive architecture to deal with regional hypersonic threats while accelerating the development of an operational demonstration using the Aegis system for regional hypersonic missile defense.
MDA is also seeking $11 million to continue developing cruise missile defense system architecture of the homeland, including a fire control demonstration. Hill said the agency's job on this issue is to set up the technical architecture options and then work within the Defense Department to see what can be done.
"I would say the trade space is still within the department on how fast we're going to move against what defended assets and what critical assets. So there's a lot of homework to be done."