The Missile Defense Agency (MDA) Monday revealed the architecture to defend Guam against ballistic, cruise and hypersonic missiles will consist of the Lockheed Martin [LMT] Aegis combat system,  Raytheon Technologies [RTX] Standard Missile (SM)-3 and SM-6 missiles, and the Northrop Grumman [NOC] Integrated Air and Missile Defense Battle Command System (IBCS).
The agency is requesting $539 million in the FY '23 budget request for the Guam defense mission. During a budget briefing on March 28, MDA officials said the funds are devoted to working with the Army and Navy to continue designing and developing multiple land-based radar systems, procuring weapon system components, and initial military construction planning and design activities.
"The architecture has now been finalized and includes a combination of integrated MDA, Army and Navy components. The FY '23 MDA request for defense of Guam is $539 million and continues the architecture work but also provides funds for design and development of multiple land-based radar systems, procurement of weapon system components and initiates military construction planning and design activities,"  Alexandria Martinez, MDA comptroller and chief financial officer, said during the March 28 budget briefing.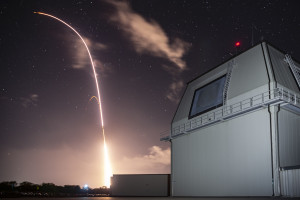 MDA director Vice Adm. Jon Hill said the specific architecture will not include Aegis Ashore, but instead a mix of distributed MDA, Army and Navy systems. He noted the decision was based on the requirement for 360-degree coverage against all three types of missile threats.
"So MDA would be the ballistic missile portion of Aegis, we work that in coordination with the Navy. So for procurement of some of those equipment suites that you would need, that's our coordination with the Navy. It will include SM-3 missiles, SM-6 missiles and then Army will be connecting to them through their IBCS system," Hill said.
He also noted the Terminal High Altitude Area Defense (THAAD) system already on Guam will stay for now. The current Guam missile defense architecture consists of a Lockheed Martin THAAD system and Aegis missile defense-capable Navy ships. 
"So we're going to build upon that architecture, leveraging that Aegis command and control of weapons, IBCS command and control of weapons," Hill said.
Hill said it is very possible that MDA may later incorporate more mid-range capable missile defense systems or adding other capabilities like the Raytheon Lower-Tier Air & Missile Defense Sensor radar. 
"We assessed all of those areas, particularly the ones that were the most mature and the most capable today across those mission sets. So you will see heavy interest in mobile launchers, so when you talk about a distributed system, it is about being as mobile as possible, so you're going to see a distributed system that is mobile."
On Tuesday, a Lockheed Martin official explained the company's perspective of the Guam work and how they are pitching their own radar, noting they have had many discussions with MDA on the capabilities they can bring. 
In an interview with Defense Daily on March 29, Jon Rambeau, Lockheed Martin vice president and general manager of the company's integrated warfare systems and sensors business, said the Aegis command and control suite will be the core of the architecture to start and the company anticipates providing the pipe to IBCS to access Army capabilities that will be residing on Guam as well as providing the battle link with the Lockheed Martin Command and Control Battle management System (C2BMC).
Lockheed Martin is looking to compete for Guam sensor coverage with a derivative of its S-band Long Range Discrimination Radar (LRDR) system currently at Clear Space Force Station, Alaska.
"MDA has gone out to look for some input from industry, I think from multiple players in industry on how the industry could contribute to the sensor solution. And we think we have a really competitive offer with the derivative of the LRDR technology, which is also on our SPY-7 offering that we're putting to sea with several international navies," Rambeau said.
Between the command and control portion, THAAD, Patriot, and offering sensing capabilities, "certainly we'll be,  I think, a big part of the long term strategy in Guam. But the next step is now that MDA has budget in hand, what are the next steps they want to take in terms of making some decisions around this component and how they want to sequence this," he added.
U.S. Indo-Pacific Command (INDOPACOM) has been vocal about needing these defensive capabilities by 2026. When asked if this decision is on track with that requirement, Hill said they are shooting for it, but it will be one of the hardest things they are doing at MDA.
"When I think of the level of difficulty, it will be Guam," Hill said.
"The work that the department has done over the last couple of years, working very closely with INDOPACOM, in terms of leaning forward even in the '22 budget, we laid down where we would prioritize, not knowing where the final architecture would be, which is really in the '23 budget," he said.
"So we're going to do everything that we can to meet that timeline, the requirement from the combatant command is clear, timeline's clear, which is why we went with the more mature technologies….we're going to leverage what we have with Aegis fire control, what we have with IBCS, where we are in SM-3 missiles, SM-6, sea-based terminal and THAAD and Patriot," Hill continued.
Last year, Rear Adm. Tom Druggan, then-Program Executive for Aegis Ballistic Missile Defense (BMD) at MDA, said SM-6 is the one capability almost definitely needed for the hypersonic missile defense part of the Guam defense mission (Defense Daily, Nov. 24, 2021)
"It is our leading defensive capability for hypersonic missile defense. And we would definitely need that. That's the one thing, for Guam, we really need that HMD (hypersonic missile defense)." Druggan said.Also in 2021, Hill said he and Commander of Indo-Pacific Command (INDOPACOM) Adm. John Aquilino were agnostic on the specific final system but that nobody should be surprised on what the final architecture would be. At the time, Hill said they very well could use a hybrid system and not just replicate Aegis Ashore (Defense Daily, June 23).