The Army chief of staff on Tuesday affirmed the Army remains intent on building the Optionally Manned Fighting Vehicle (OMFV) after canceling the current prototype solicitation effort last week, adding the service will work with industry to negotiate requirements before restarting the acquisition process.
Gen. James McConville told attendees at an Association of the United States Army event that the decision to reset the potential $45 billion Bradley fighting vehicle replacement program was made when officials determined the "aggressive timeline did not permit industry to meet the [current] requirements."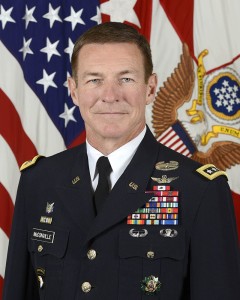 "We are fully committed to replacing the Bradley fighting vehicle in the future. However, like the Future Vertical aircraft, you want to ride these before we buy them. And for industry, that's the strategy that we're going to take," McConville said. "We want to see what we have before we invest a large amount of money in these programs."
Army officials told reporters last week the OMFV program was on a "tactical pause" with a plan to evaluate and revise the program's requirements before restarting the competition in the future (Defense Daily, Jan. 16).
OMFV has faced scrutiny after the service accepted a single bid sample, an offering from General Dynamics [GD], for the program's prototype phase.
"It was a very aggressive timeline. We knew that going in. But when we meet with industry, the feedback we got was that they could do it," McConville said. "We are going to say show us that you can actually do this. As we come back around with industry, we're going to say how much time will it take to get to the requirements that we need. So there's more negotiation that's going to go on."
McConville told reporters he couldn't discuss specific OMFV requirements that will be addressed, while affirming that officials will continue to bring in private sector partners to understand where current technology stands with their potential offerings.
"As we've worked with industry through the process we had a belief that, although the initial requirements were aggressive, we thought they could meet them. They did too," McConville said. "But when it came time, and the process was up, they were unable to meet the requirements. So we said okay, let's just take a pause."
The move to cancel the prototype solicitation effort allowed the Army to reset the effort before having invested major funds in the program, which McConville added has been an integral part of the service's new modernization approach with Futures Command.
"I would argue this is exactly what we wanted to do, and this is what we're going to do in the future. We're going to make sure that we get what we want before we invest a lot of money into it," McConville told reporters after his speech. "This is the potential for a $45 billion program, which is a large pot of money. What we want industry to do is compete and win for these programs. Competition is good for us. It's good for them."