The Office of Naval Research (ONR) recently awarded Lockheed Martin [LMT] a $22 million contract to demonstrate and test a Layered Laser Defense (LLD) prototype weapon system on a Littoral Combat Ship (LCS).
This contract, awarded March 9, will have the company integrate, demonstrate, test, and operate the LLD onboard an LCS while it is underway.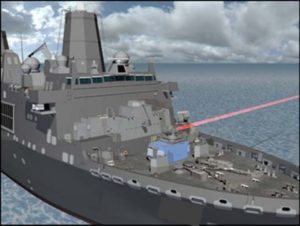 The contract announcement noted key work to be performed under the award includes development of a prototype structure and enclosure to protect LLD from ship motion and maritime environment in a mission module format, system integration and test with government-furnished equipment, platform integration and system operational verification and test, systems engineering, test planning, data collection and analysis support, and operational demonstration.
This contract was competitively procured under a long range broad agency announcement from September 2019 "for Navy and Marine Corps Science and Technology." Since the Navy is receiving proposals throughout the year, it does not know the total number of respondents for the BAA yet.
The Lockheed Martin work will mostly be split among Moorestown, N.J. (30 percent); Baltimore (25 percent); Dallas (15 percent); Sunnyvale, Calif. (12 percent); and Woodinville, Wash. (10 percent), and is expected to be finished by July 2021.
The announcement noted the award will be incrementally funded with an initial obligation of $11 million via Defense-wide FY 2019 research, development test, and evaluation funds that will expire at the end of this fiscal year.
This award comes after USNI News first reported in January the Freedom-variant USS Little Rock (LCS-9) will field a 150-kilowatt high energy laser weapon for the first time in 2020 while likely deployed with 4th Fleet.
Such a weapon would be useful to counter unmanned aerial systems and fast-attack aircraft as well as helping to detect incoming targets.