The top Republican on the Senate Armed Services Committee (SASC) introduced a new bill this week that would authorize $450 million in foreign military financing for Ukraine in 2022, citing concerns over Russia's build-up of troops and military capabilities along the border with Ukraine.
Sen. Jim Inhofe (R-Okla.), the SASC ranking member, said his Guaranteeing Ukraine's Autonomy by Reinforcing its Defense
(GUARD) Act would "substantially and immediately" bolster material support for the Ukrainian Armed Forces, to include weapons and training assistance.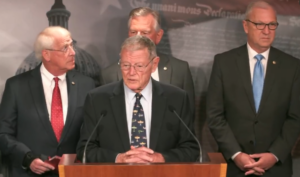 "We've watched Russia's military buildup around Ukraine for months, seeing clearly that [Russian President Vladimir] Putin intends to violate Ukraine's sovereignty. Despite this, the Biden administration says they won't take any action until after Putin invades — and by then, it will be too late for our friends in Ukraine. This bill pushes President Biden to speed up lethal military aid to Ukraine to deter Russia, before Russia invades. Lethal aid will remind Putin that any attempt to annex Kyiv will have real and concrete costs," Inhofe said in a statement.
Pentagon spokesman John Kirby told reporters on Friday the department has continued to monitor the situation along the Russian-Ukrainian border.
"We haven't seen any significant changes in the posture of Russian forces arrayed around the Ukrainian border. They are still there in large number," Kirby said during a briefing.
After receiving a classified briefing from Pentagon officials last week on Russia's military buildup, Inhofe said the U.S. should be providing Ukraine with "anti-air, anti-tank and counter-artillery weapons, as well as cyber capabilities, information operations, and more intelligence sharing."
In 2021, the U.S. has agreed to over $400 million in military support deals with Kyiv under the Ukraine Security Assistance Initiative, to include a $150 million package announced in June that covered delivery of counter-artillery radars, counter-drone systems, secure communications equipment and electronic warfare capabilities (Defense Daily, June 11).
A $60 million security assistance package to provide Ukraine with Javelin anti-armor missiles and other defensive and non-lethal systems was also announced in September (Defense Daily, September 1).
The final compromise version of the fiscal year 2022 National Defense Authorization Act, passed by the Senate this week and headed to the president's desk for final signature, includes authorizing $300 million for Ukraine security assistance (Defense Daily, Dec. 7).
Sens. Jim Risch (R-Idaho), Marco Rubio (R-Fla.), Pat Toomey (R-Pa.), John Barrasso (R-Wyo.), John Cornyn (R-Texas) and Tom Cotton (R-Ark.) joined Inhofe in co-sponsoring the GUARD Act.