The Pentagon last Friday announced a new $150 million military aid package with Ukraine, which will include delivery of counter-artillery radars, counter-drone systems, secure communications equipment and electronic warfare capabilities.
The latest Ukraine Security Assistance Initiative deal is the final for fiscal year 2021, and was approved after the Pentagon and State Department determined Ukraine had made progress on implementing key defense reforms.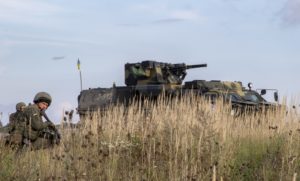 Officials said capabilities included in the package will "enhance the lethality, command and control, and situational awareness of Ukraine's forces" and "improve the operational safety and capacity of Ukrainian Air Force bases."
In March, the Pentagon announced a $125 million military aid package with Ukraine that also included counter-artillery radars as well as two additional SAFE Boats International-built Mark VI patrol boats, bringing the U.S. total delivery commitment up to eight vessels (Defense Daily, March 1). 
"The United States has committed more than $2.5 billion in security assistance to Ukraine since 2014 and will continue to strengthen our strategic defense partnership, including through the provision of defensive lethal assistance," Pentagon officials wrote in a statement.
In it's announcement, the Pentagon said it "encourages Ukraine to continue to enact reforms," to include continuing to align defense priorities with NATO principles, adopting an improved defense industry strategy and increasing transparency into its defense procurement cycle.