The head of Indo-Pacific Command said the U.S. must invest in more defensive capabilities in the region to counter Chinese advancements, particularly reiterating the need for an Aegis Ashore System on Guam.
Adm. Phil Davidson told the Senate Armed Services Committee on Tuesday that China is "accelerating their ambitions to supplant the United States and our leadership role in the rules-based international order," and additional funds are needed to help deter military conflict and win one if it emerges.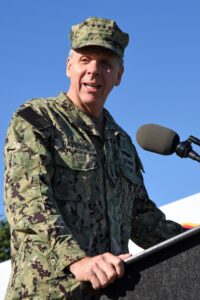 He argued China has long said they want to supplant the U.S. this was by 2050 and he is worried they may move the target closer, with Taiwan a target before that.
Davidson said "persistent arms sales" is one way to help support Taiwan. Such sales were increased under the Trump administration.
The new Defense Department leadership recently said the DoD budget for fiscal year 2022 is under review and Davidson said, "I was quite encouraged by the Deputy Secretary of Defense's memo of two weeks ago, where she articulated that the Pacific Deterrence Initiative was absolutely a priority that would be addressed during the budget review."
"I think the Pacific Deterrence Initiative, funded in FY '21 for about $2.2 billion, was a good first start. I recognize that the committee has put a cap of $5.5 billion on the fund going forward.," Davidson said.
PDI was first established by the last National Defense Authorization Act at a level of $2.2 billion to start the overall work (Defense Daily, Dec. 11).
He added that according to draft budgets he has seen there is recognition in them that funds need to go into the PDI.
"I've been encouraged by much of the draft material I've seen, but there's a long way to go before the budget is finalized and we'll continue to engage with the department to see it through."
Committee chairman Sen. Jack Reed (D-R.I.) noted in Davidson's independent assessment he suggested $4.7 billion for the PDI is needed, $2.5 billion more than funded in FY '21.
When asked if that was sufficient for all of his needs, Davidson said, "if that was to be fully resourced, it would have assessed our needs to put in place the deterrent posture that I'm advocating."
Earlier this month, Defense Daily reported Indo-Pacific Command is seeking over $27 billion to fund the PDI over fiscal years 2022 – 2027, including $4.7 billion in FY '22 alone (Defense Daily, March 2).
Within that PDI funding, Davidson reiterated his number one priority is adding an Aegis Ashore site to Guam for increased long-range air and missile defense capabilities.
"I'm a key advocate for the persistent, fixed, 360-degree air and missile defense that would be capable of meeting cruise missile treats, ballistic missile threat, certainly anything that could be cruise missile-launched from a bomber, from the land, form the sea and form the air in the region."
Last July, Davidson said his number one priority for Indo-Pacific Command to implement the National Defense Strategy was to install a Baseline 10 Aegis Ashore facility in Guam (Defense Daily, July 22, 2020).
While acknowledging the Terminal High Altitude Area Defense (THAAD) system is currently deployed to Guam, Davidson said it is not currently capable of meeting the "trajectory of threats" from China.
"It must be delivered in a 360-degree fashion to protect form the kind of activities we're seeing China conduct, which is circumnavigations of Guam, the Commonwealth of the Northern Marianas, etc. More important, we all have to understand Guam is U.S. territory. We have 170,000 U.S. citizens living on Guam. Their defense is homeland defense. We have 21,000 U.S. servicemen and women & Department of Defense employees as well plus their families."
According to the executive summary of Indo-Pacific Command's PDI request, the command calls for $350 million in FY '22 to fund the Guam Aegis Ashore system, followed by $1.3 billion from FY '23 to '27.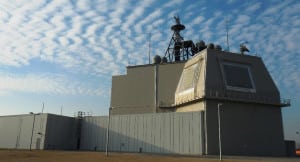 Davidson said a Chinese propaganda video shows their bomber forces attacked Andersen Air Force Base on Guam in a future scenario.
"Guam is a target today, it needs to be defended & it needs to be prepared for the threats that will come in the future b/c it's clear to me that Guam is not just a place that we believe we can fight from, as we have for many decades, we are going to have to fight for it in order to do that."
Davidson also said adding Aegis Ashore, in partnership with the Missile Defense Agency, would not require developing new capabilities because it already "delivers the kind of capabilities that would meet the threat that's extant here by mid-decade and will help us pace the threat into the future."
Relatedly, Davidson said the Defense Department projects that by 2025 China's military will have three aircraft carriers to one U.S. carrier in the region, six amphibious assault ships the one U.S., and 54 multi-warfare combative ships to six U.S. ships in the region.
Separately, in response to questions by Sen. Joe Manchin (D-W.Va.), Davidson said Japan is still considering its alternative options to the now-canceled two Aegis Ashore sites (Defense Daily, June 29, 2020).
Noting Japan already committed funds to the Aegis Ashore system, he said "they're still working their way to really a base of alternatives that I think include both a disaggregated posture between land and sea as well as sea and land."
Last month, MDA said it and the Navy witnesses a demonstration of a Japanese variant of the Aegis software used at sea with a Lockheed Martin [LMT] SPY-7 radar (Defense Daily, Feb. 26).
Japan selected the company's Long Range Discrimination Radar for its canceled Aegis Ashore plans. SPY-7 is derived from that radar system.
The U.S. currently deploys the Aegis air and missile defense system on guided-missile destroyers and cruisers at sea as well as at European sites in Romania and Poland as part of the European Phased Adaptive Approach (EPAA) missile defense program.