The Air Force general nominated to serve as the next vice chairman of the Joint Chiefs of Staff faced questioning from lawmakers on Tuesday over his judgment and leadership in the wake of misconduct allegations, while appearing to also receive overall support from the Senate panel looking to move his confirmation toward a vote.
Gen. John Hyten, commander of U.S. Strategic Command (STRATCOM), defended himself from sexual assault allegations while presenting the Senate Armed Services Committee with his vision for a future Space Force and and the need to push forward with emerging technologies, such as hypersonic weapons.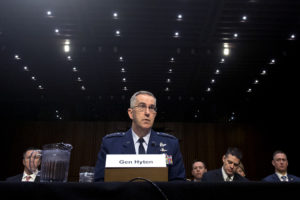 "I want to state you and the American people in the strongest possible terms that these allegations are false. There was a very thorough investigation which revealed the truth. Nothing happened, ever," Hyten said during his opening remarks.
Sen. Jim Inhofe (R-Okla.), the SASC chairman, said his committee held five executive sessions to investigate the sexual assault allegations from Army Col. Kathryn Spletstoser, a former STRATCOM official. Inhofe said the closed sessions could not substantiate Spletstoser's claims against Hyten.
"This committee will not act on unproven allegations that did not withstand the close scrutiny of the committee's process," Inhofe said.
Inhofe was joined by most of Republican colleagues and several Democrats in voicing their support for Hyten's nomination, specifically pointing to his space and nuclear deterrent expertise as a critical component for his future role.
Sen. Martha McSally (R-Ariz.), a survivor of sexual assault, offered her support citing the unsubstantiated allegations, signaling that Hyten's confirmation is likely to pass out of the committee.
"As a result of an exhaustive process and extreme due diligence, I have full confidence in Gen. Hyten's ability to be the next vice chairman of the Joint Chiefs of Staff. He's the right leader at the right time for this important position," McSally said. "The truth is Gen. Hyten is innocent of these charges. Sexual assault happens in the military, it just didn't happen in this case."
Following Hyten's hearing, Spletstoser told reporters she disputed the general's account and said there was sufficient evidence to refer charges on unwanted sexual abuse.
"He lied about sexually assaulting me. He did it. He did it multiple times and there was corroborating evidence in that report and investigation that was done by Air Force [Office of Special Investigations]," Spletstoser said.
Sen. Joni Ernst (R-Iowa) broke from her Republican colleagues and offered a stronger rebuke of Hyten and asked him about his slow approach to address complaints at STRATCOM that Spletstoser had created a "toxic environment."
"The facts have left me with concerns regarding your judgment, leadership and fitness to serve as the next Vice Chairman of the Joint Chiefs of Staff," Ernst said. "You serve within one of the most important positions within our United States military, overseeing our nuclear arsenal, however you could not bring yourself to admit or recognize toxic leadership within your command."
The panel also pressed Hyten on his priorities if confirmed to serve as the no. 2 military officer, including his views on the formation of a U.S. Space Force.
Hyten said he supported the Senate's plan to build out a Space Force with less bureaucracy by placing it under the Department of the Air Force and having the commander sit with the Joint Chiefs similar to the Marine Corps commandant.
"That's how you keep that small. That's how you keep the bureaucracy from going crazy," Hyten said. "I think there's a good transition in the Senate's plan. I think we're going to have to work together, and if I'm confirmed as the vice chairman I'd hope you'd reach out to me and ask me to help you work through that because that's going to be a complicated arrangement."
The general did express the concern about the Senate's current plan to have Gen. John Raymond, set to serve as the first leader of the new U.S. Space Command, also head up Space Force in its first year to oversee the transition.
"I'm a little concerned about the level of responsibility we're going to give Gen. Raymond, here shortly, if he becomes head of the Space Force as well as the head of the new Space Command," Hyten said.
Sen. Martin Heinrich (D-N.M.) asked Hyten if he supports the Pentagon's focus on hypersonic capability development, specifically prioritizing research and development funds to more rapidly work toward prototype capabilities.
"I'm a huge advocate for pursuing hypersonic technology. I'm also a huge advocate for looking at hypersonic defenses and sensing," Hyten said. "This is critical to our nation's future. We have adversaries that are going extremely rapidly in this area. We have had fits and starts over the years with hypersonic technology, which I believe was a mistake. We should have been going consistently and rapidly over the years."