Secretary of Defense Mark Esper said Wednesday the long-term effects of the pandemic will lead to "downward pressure" on the Pentagon's budget, with the department turning to legacy system cuts to save funds.
Esper told attendees during the virtual Aspen Security Summit the trillions of dollars authorized for emergency spending bills will lessen the Pentagon's probability of receiving the three to five percent annual budget growth he's called for previously to meet modernization initiatives.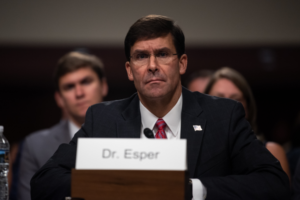 "That's why I continue to beat the drum that we have to be much more cost-aware, cost efficient. We've got to make those hard choices. We've got to get rid of legacy systems," Esper said.
While Esper didn't specify new areas that will face legacy system cuts, he reiterated the ongoing defense-wide review process would continue assessing programs that demonstrate high return on investments.
"So many programs are important but, frankly, some are more important than others. If it's not returning a high return on investment, you're just going to have to get rid of it because it's hard to sustain that level of spending. We just have to be realistic," Esper said.
Esper has previously said the defense-wide review effort he spearheaded has found at least $7 billion to shift toward higher priority efforts (Defense Daily, Feb. 6).
The reform effort has included reviewing $99 billion in appropriations across the department's Fourth Estate agencies, resulting in $5 billion in potential savings and $2 billion that could be transferred to service departments, Esper said in February.