The Missile Defense Agency (MDA) paused its hypersonic missile defense prototype effort until later this year to split its focus into near-term options and a longer term more "elegant" solution, according to agency director Vice Adm. Jon Hill.
In January, MDA issued a Draft Request for Prototype Proposals to start discussions with industry on requirements for a Hypersonic Defense Regional Glide Phase Weapon System.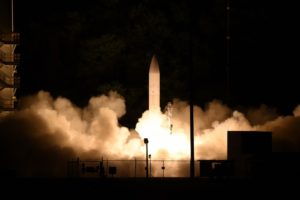 Industry days occurred in February and white papers were due in March outlining plans for potential prototype interceptors, with MDA planning to eventually choose at least one competitor to build prototypes and lead to a flight test.
However, in July, MDA updated the solicitation noting the final Request for Prototype proposals was under review and is assessing and reviewing requirements at all levels "in order to accurately establish the technical baseline and future end-state for hypersonic missile defense and the Regional Glide Phase Weapon System (RGPWS) effort."
The notification said MDA expects to finish the review by the end of the first quarter of fiscal year 2021.
During the Tuesday virtual Space and Missile Defense Symposium, Hill said as MDA went through the analysis of alternatives for the hypersonic defense interceptor they "recognized there are two paths you can take to get to a weapons system that gets you through engagement."
This is split into near-term and longer-term interception paths.
"The question is how long do you stay in the science and technology world? You should also take a look at a quick development path and that's what we're looking at now."
"One of the reasons why we took the pause and said we'll get back to you later in the year is we want to see what we can do in the very near term," Hill continued.
Defining near term as the mid-2020s, Hill said MDA also wants to "then keep the science and technology investments going so that you can get to that further term, more elegant solution."
While the agency wants to get capability ready as soon as possible to defend against hypersonic threats, likely in the terminal phase, they also want to build out a longer-term glide phase intercept option.
"We do believe that the glide phase, further back in that trajectory, is always better than the terminal systems that we have today, what I call the Hail Mary shots."
"Where we're going in the future is to reach back into that trajectory, into that glide phase where the hypersonic threat is its most vulnerable – that's where it's bleeding off energy, it's not maneuvering as much and it's pretty easy to track. We know that based on real world data collection. And so now we can take a forward based ship's sensor, take what it sees, pass that to a shooting ship, and then get the right weapon up to the glide phase and that's what we're working our way through now," Hill said.
He acknowledged terminal interception is important and cannot be discounted, "but you want to move back in the trajectory as far as you can."
Therefore, Hill said MDA will likely come back later this year with the program effort split into a near term regional hypersonic defense interceptor effort and a further out continual science and technology piece that will lead to a different type of effector.
Hill underscored that compared to terminal phase glide phase hypersonic defense systems could have different technologies including different propulsion, warhead types, and effector types.