The Pentagon has two new initiatives to bolster international partnerships for the shift toward great power competition with China and Russia, including a new plan for tracking development of security cooperation efforts and taking a more "strategic enterprise approach" to foreign military sales.
Defense Secretary Mark Esper provided details during a Tuesday discussion with the Atlantic Council of the new Department of Defense Guidance for Development of Alliances and Partnerships (GDAP), which went into effect last month, as well as the new analytics-based approach to defense trade modernization.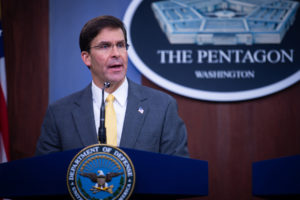 "Our ability to retain this advantage [of partnership and allies] is not preordained, nor can we take our longstanding network of relationships for granted," Esper said. "Together, these efforts will help us build the capacity and capabilities of like-minded nations and foster interoperability with friendly militaries while promoting a stronger, domestic industrial base that can compete in the global marketplace."
Esper also said he directed several changes last month to DoD's defense export systems process to require early interoperability for critical weapon systems, institute an agile framework for technology release, prioritize countries or capabilities or both to capture or keep key markets and improve the predictability of international demand to inform commercial investments and increase industrial capacity.
"This initiative seeks to resolve two core problems. First, I continue to hear from foreign defense ministers and U.S. industry that our defense export processes are often too slow, opaque and complicated. Second, we must compete with China and Russia whose state-owned industries can fast track military exports in ways that we cannot and would never want to, in many cases," Esper said.
GDAP includes a new FMS dashboard that will better track the progress of critical FMS cases, according to Esper.
The U.S. had more than $55 billion in FMS over the course of FY '19, Esper said, including $22 billion in new projects with countries in the Indo-Pacific.
"We are providing F-35 aircraft to Japan, Seahawk and Apache helicopters to India and F-16 fighter jets to Taiwan, to name a few examples," Esper said.
Esper said the new GDAP effort is aimed at implementing a "coordinated strategic approach to strengthening alliances and [building] partnerships."
"In the past, our international engagements were guided by regional priorities and interests but we are now in an era of great power competition that is global in nature. This reality requires a common set of priorities across the Office of the Secretary of Defense, the Joint Staff, the services and the combatant commands that will drive our interactions with our foreign counterparts and improve our effectiveness," Esper said.
GDAP will be used to track and analyze the Pentagon's foreign engagements to "prioritize, align and synchronize [DoD]s] security cooperation activities across Title X authorities to build partner capacity," according to Esper, with a goal of leading to more succinct discussion on partners' warfighting needs and and future force planning.