The USS Zumwalt (DDG-1000) conducted its first live test fire of a Standard Missile (SM)-2 out of its Mk 57 vertical launching system last week, the Navy said Monday.
This test occurred at the Naval Air Weapons Center Weapons Division Sea Test Range, Point Mugu on Oct. 13 in a bid to demonstrate the ship's capability to detect, track and engage an anti-ship cruise missile threat using the SM-2.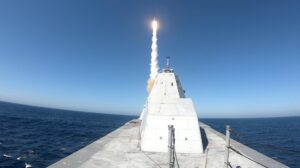 The Navy said this was a structural test fire that sought to assess "the material readiness of the ship against shock and vibration of the weapon firing, as well as measure any hazards or degradations as a result of firing live ordnance."
"Today's successful test not only demonstrates the ship's capability to fire missiles and conduct self-defense, it is also a significant step toward more advanced combat system testing and operations for our Navy's most technically innovative warship," Capt. Matt Schroeder, DDG-1000 program manager, said in a statement.
While the Zumwalt was commissioned in 2016, the three-ship class has a two-part production cycle with hull, mechanical and electrical delivery on the East Coast and then combat system installation and activation only occurring once it reached its homeport of San Diego.
General Dynamics' Bath Iron Works [GD] builds the DDG-1000 class at its shipyard in Bath, Maine.
Raytheon Technologies [RTX] is the prime contractor for the Zumwalt's combat system and leads activations and integration of the ship is both Bath and San Diego.
The Navy finally accepted delivery of the ship in April, with it next transitioning form combat systems activation to the next phase in development and integrated at-sea testing like this SM-2 test (Defense Daily April 24).
The service said DDG-1000 is continuing tests, tactical training and operational scenario engagement to support reaching Initial Operational Capability, expected in 2021.