The Pentagon expects to deliver L3Harris' [LHX] Vampire counter-drone system to Ukraine in mid-2023 following a contract award "within the next few months," a Pentagon spokesperson said Tuesday.
"As mentioned, air defense continues to be a priority. It's something we're going to continue to stay focused on and work as quickly as we can," Air Force Brig. Gen. Pat Ryder, the Pentagon press secretary, told reporters during a briefing.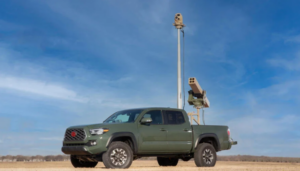 The update on the timeline for L3Harris' Vampire system follows comments from Ukrainian President Volodymyr Zelenskyy last Friday reiterating air defense capabilities as a top priority in the fight against Russia's ongoing invasion (Defense Daily, Oct. 28).
"We have to defend our skies. If my memory serves me right, I've been saying that since the first days of the war. Aviation and aerial defense, this is what we lack. We need to defend our skies to defend our children. Russia can do nothing against us on land," Zelenskyy via English translation during a Yale School of Management discussion.
Zelenskyy cited Russia's ongoing missiles attacks, specifically targeting energy infrastructure, as well as Iran's move to provide drones to assist Moscow as creating an urgent need for air defense capabilities.
L3Harris' Vampire system was included as part of a $3 billion Ukraine Security Assistance Initiative package approved in August that was designed to meet Kyiv's mid- and long-term security requirements, with capabilities to be procured from industry and delivered over the course of months to years (Defense Daily, Aug. 24).
Paul Swiergosz, an L3Harris spokesman, told Defense Daily following the announcement of the $3 billion USAI package that the company was confident it can deliver the capability within nine months once officially under contract (Defense Daily, Aug. 26).
Swiergosz said at the time that L3Harris began developing VAMPIRE, which stands for Vehicle-Agnostic Modular Palletized ISR Rocket Equipment, in early 2021 "after realizing a need for lightly-armed forces to have the capability to engage ground-to-ground and ground-to-air targets at greater range."
"In plain English it's a low-cost, rapidly deployable weapon system that gives ground forces the agility and ability to quickly and accurately engage targets both on the ground or in the air," Swiergosz told Defense Daily.
Swiergosz said L3Harris sees VAMPIRE as not just a counter-drone capability, describing it as "designed to be a disruptive, agile, multi-purpose weapon system."
At last month's Association of the United States Army's annual conference in Washington, D.C., L3Harris showcased the Vampire solution that was integrated with Force Flex's DroneBuster capability.
VAMPIRE is capable of being mounted on "virtually any type of standard pickup truck, commercial or tactical vehicle by two people, in two hours, using common tools," according to Swiergosz, and can be equipped to fire Advanced Precision Kill Weapon System (APKWS) or other laser-guided munitions.
There are no current customers for VAMPIRE, with Swiergosz noting that L3Harris responded to DoD's call to industry in April seeking potential capabilities that could be supplied to Ukraine with information on the new system.