A group of moderate Democrat lawmakers are urging the House Armed Services and Appropriations Committees to fully fund President Joe Biden's request for a $753 billion national security budget in fiscal year 2022, pressing their colleagues to oppose calls to cut defense spending.
The leaders of the House Blue Dog Coalition sent a letter
to the aforementioned committees' on June 24, ahead of the House Defense Appropriations Subcommittee's markup of their FY '22 spending bill on Wednesday and amid a continued push from progressive lawmakers to reduce the military budget and redirect funds to domestic priorities.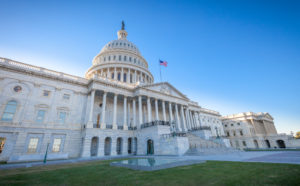 "We believe this is a strong and sensible funding request, and we oppose calls to authorize or appropriate funding below this level. The United States faces a formidable array of challenges from state and non-state actors, including from China, Russia, North Korea, Iran, the Islamic State, and al Qaeda. We strongly support the robust defense funding level included in the President's budget request," the group wrote in their letter.
The letter was signed by the five members of the Blue Dog Coalition leadership, Reps. Tom O'Halleran (D-Ariz.), Ed Case (D-Hawaii), Stephanie Murphy (D-Fla.), Abigail Spanberger (D-Va.) and Kurt Schrader (D-Ore.), as well Rep. Mikie Sherrill (D-N.J.), head of the Blue Dog Task Force on National Security.
While the letter calls for maintaining Biden's requested topline, the group also indicated support for bolstering spending on the new Pacific Deterrence Initiative to include appropriating at least $4.7 billion for the plan.
Pentagon leadership has faced scrutiny from Republican lawmakers over the last month since Biden released his budget request, specifically over the lack of a 3 to 5 five percent boost in the topline, cuts to certain legacy platforms and plans to push back procurement of a second new Navy destroyer (Defense Daily, June 10).
Rep. Pramila Jayapal (D-Wash.), chair of the Congressional Progressive Caucus, has called for cutting the Pentagon's "bloated budget," with members of the group proposing a 10 percent decrease in defense spending during last year's markup process.
Progressive Democrats in Congress have also introduced several measures recently aimed at curbing spending on nuclear modernization efforts, such as a bill introduced by Sen. Ed Markey (D-Mass.) and Rep. Ro Khanna (D-Calif.) to stop development of the Ground Based Strategic Deterrent and redirect the funds toward developing a universal coronavirus vaccine and other disease research (Defense Daily, March 26).