Germany's Rheinmetall said Tuesday the Army will test its StrikeShield active protection system beginning next October, as the service continues its search for anti-missile protection capabilities for its vehicle fleet. 
Under the deal, valued at $11 million, Rheinmetall, and its partner United Business Technologies, will demonstrate StrikeShield over a period of several months at Redstone Test Center in Huntsville, Alabama.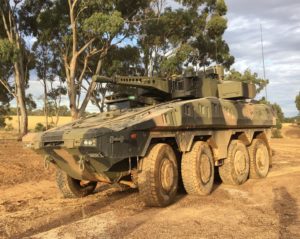 "We are excited to enter into a new phase of partnership with the Army that will enable the Army to carry out extensive tests of the StrikeShield APS system," Stefan Haase, Rheinmetall's head of active protection systems, said in a statement. "We are confident the system will perform very well in the testing and that possibilities for fielding the technology on Army vehicle systems will arise."
The live-fire tests next year with StrikeShield will look to broaden the Army's search for an active protection capable of taking down new anti-tank weapon threats with an eye toward potential integration on future platforms, such as the Bradley-replacing Optionally Manned Fighting Vehicle (OMFV) and Mobile Protected Firepower light tank.
"The StrikeShield APS is a distributed, real time system that was developed to protect the carrying platform against anti-tank rockets and missiles. It, therefore, can operate in the immediate vicinity of the vehicle to be protected," Rheinmetall officials wrote. "Additionally, in StrikeShield the technical requirements of large caliber kinetic energy defeat are addressed, which is a unique combination of threats to protect against and reason for the promising overall outlook."
Rheinmetall noted the demonstrations are intended to provide the Army with performance data to inform potential selection of new APS technologies in the future, and determine which systems are best suited for certain platforms. 
In October, Rheinmetall told Defense Daily the company was looking to continue discussions with the Army on participating in future vehicle system opportunities after a missed opportunity to submit a bid for the OMFV program (Defense Daily, Oct. 14).