Members of Congress from the states where the new Block V Virginia-class attack submarines will be built support the new contract but emphasized they want to see the optional 10th boat built.
On Monday, the Navy awarded General Dynamics Electric Boat [GD] long-awaited a $22.2 billion contract to build nine Block V submarines with an option for a 10th that would increase the contract cost to over $24 billion (Defense Daily, Dec. 2).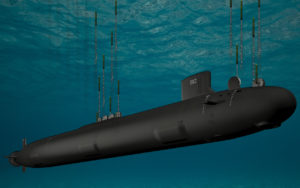 At the time, Navy officials noted this is the largest shipbuilding contract the Navy has ever awarded. Eight of the nine submarines will include the Virginia Payload Module (VPM), adding capability to launch Tomahawk cruise missiles and extending the length of the submarine by 90 feet.
Rep. Joe Courtney (D-Conn.), chairman of the House Armed Services Seapower and Projection Forces subcommittees, welcomed the award and said in a statement it "provides stability and certainty to our submarine shipbuilders, greater deterrent capability to our combatant commanders, and increased workload for the industrial base."
Courtney said he has been in regular contact with the Navy and Defense Department leaders "to emphasize the need for a strong commitment to a 10-boat contract. The inclusion of advanced funding for long lead components for all 10 boats, typically worth around $450 million per boat, sends a powerful signal that the Navy has heeded that message."
"As Chairman of Seapower Subcommittee I will continue urge the Navy and the shipbuilders to do all they can to see the full potential of this contract realized in the years ahead," he continued.
James Geurts, Assistant Secretary of the Navy for Research, Development and Acquisition, told reporters on Monday the 10th boat is optional, in part, to incentivize on time production and guarantee the Columbia-class SSBN ballistic missile submarine will be built on schedule.
"That's kind of ultimately why we put one of the boats as an option price, so that we could – as performance warrants, as we see it we can add a 10th boat in there. If not, we can back off a little to make sure Columbia's successful," Geurts said.
Rep. Jim Langevin (D-R.I.), a member of the subcommittee, noted the VPMs will be built at the newly constructed 1.3 million square foot GD Quonset Point facility in his state.
He said this award is good for Rhode Island and "backs our state's workforce and, most importantly, promotes long-term stability for our submarine fleet, which will further enhance national security by ensuring we have the most capable submarines and naval technology available in the years to come."
Relatedly, Sen. Richard Blumenthal (D-Conn.), a member of the Senate Appropriations Committee, said in a statement he was glad to see the award and "I am committed to fighting on behalf of current and future Connecticut workers, to ensure that the Navy exercises the option to buy a 10th Connecticut-made submarine."
Sen. Jack Reed (D-R.I.), ranking member of the Senate Armed Services Committee, hailed the award as good for national security and his state's economy and implicitly said he would push for the 10-boat option.
"The awarding of this contract is a testament to the skill and dedication of the men and women at Electric Boat who do an outstanding job of building these submarines. I will continue working hard to ensure the Navy maintains a steady, two-per-year production rate," Reed said in a statement.
Courtney also noted the VPM is adding $500 million to the vessel cost and thus each boat requires more construction work than earlier Block versions. His office estimates each VPM submarine equals about 25 percent more work than a normal Virginia-class boat.
Therefore, the eight submarines equipped with VPM will represent a workload equivalent of about 11 regular Virginia-class ships.
GD Electric Boat is the prime contractor, but Huntington Ingalls Industries' [HII] Newport News Shipbuilding (NNS) is a subcontractor and the two generally split the work on Virginia-class submarines with each making certain parts of each vessel and taking turns building the reactor and performing final assembly.
Navy officials on Monday said since the Block V will be under construction as the Columbia-class SSBN is ramping up at Electric Boat, more than 50 percent of the Virginia final assembly work will shift to NNS.
The Navy expects Block V deliveries to run from 2025 to 2029.