The Army is utilizing its emerging technologies competition program to find vendors capable of rapidly producing ventilators to support the coronavirus pandemic response effort.
The service announced Thursday its Expeditionary Technology Search program, or xTechSearch, will hold virtual pitch panels beginning April 13 for low-cost, emergency ventilator solutions that require minimal components and are designed for mass production.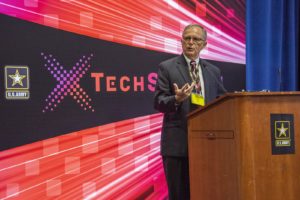 "The technology solution must provide a rapid-response breathing apparatus capable of short-term, rugged field operation in a small footprint that will support field hospitals," Zeke Topolosky, the Army's xTechSearch program manager, said in a statement.
Vendors that submit viable solutions will receive $5,000 to pitch their technology concepts, with $100,000 cash prizes to be awarded to those selected to build concept prototypes.
While xTechSearch usually seeks technologies from small business and non-traditional partners, the ventilator search will be open to all companies regardless of size, according to the Army.
"Applicants should be prepared to deliver a virtual pitch of their concepts within one week after submission. Companies can submit ideas at any time, and they will be reviewed upon receipt," the Army wrote in its announcement.
Companies may be eligible for follow-on contracts for additional production of their ventilator solutions if prototypes are deemed viable for deployment.