The Department of Transportation's Maritime Administration (MARAD) said TOTE Services LLC selected Philly Shipyard, Inc. to build the new National Security Multi-Mission Vessel (NSMV) training ship on April 7.
Under the award, Philly Shipyard will build up to five NSMVs to both provide maritime training to future American mariners and support humanitarian assistance and disaster relief.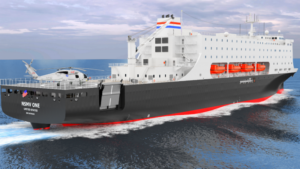 Philly Shipyard disclosed the initial award is for $630 million and covers non-recurring engineering and detail design of the NSMV class and procurement of equipment and materials and construction of the first two vessels. If all five vessels are ordered and built, the total contract value would rise to about $1.5 billion.
"Philly Shipyard is honored to be selected by TOTE to build these sophisticated vessels. We are thankful for the trust that TOTE has placed in us…Securing this award is a major milestone in our strategy to reposition the yard for government and commercial projects. We look forward to delivering on our promises," Philly Shipyard President and CEO Steinar Nerbovik said in a statement.
MARAD first contracted with TOTE in May 2019 to act as the vessel construction manager to deliver one to five NSMVs. Previously, Congress required the NSMVs to be procured using a commercial design and build practices.
Congress appropriated funding for tree ships so far while the President's FY 2021 budget request includes funds for the fourth ship. As construction manager, TOTE commissioned Philly to build the first two NSMVs with options for the other three.
After the ships are built and delivered to TOTE, the vessels will then be transferred to MARAD "to further their historic mission of training future licensed mariners at state maritime academies and responding to humanitarian and natural disasters for the United States," the administration said.
Philly said engineering and planning work for the vessels is already underway in conjunction with their technical partner, with final design and procurement to start immediately. Production on the first vessels is scheduled to start in early 2021.
Philly's win comes weeks after the Coast Guard awarded the shipyard one of eight six-month contracts for design studies for the follow-on detail design and construction of the Offshore Patrol Cutter program. The initial award for that program is $2 million with the possibility of them receiving up to $3 million overall (Defense Daily, March 24).
TOTE's announcement explained the award will execute MARAD's "vision to recapitalize our nation's maritime academies' training fleet, which provide qualified officers to the domestic maritime industry. These training vessels will address a critical shortage of qualified officers needed to crew commercial and government-owned sealift ships during crises and will replace the current training ships at the state maritime academies in New York, Massachusetts, Maine, Texas and California."
"This new world class vessel, constructed at an American shipyard, is part of our much-needed program to replace the aging training vessels currently operated by state maritime academies," Transportation Secretary Elaine L. Chao said in a statement.
Maritime Administrator Mark Buzby underscored choosing Philly Shipyard means the effort is "not only bolstering the U.S. Merchant Marine, but the U.S. economy and vital transportation infrastructure as well."
The NSMVs aim to sustain U.S. maritime training operations at the state maritime academies by providing new mariners with the "most modern and adaptable training platform."
The vessels will have several instructional spaces, a full training bridge, dual engine rooms and pilot hoses and space to train up to 600 cadets.
MARAD noted the vessel will also be able to "uniquely support federal government efforts in response to national and international disasters such as hurricanes and earthquakes" as part of the National Defense Reserve Fleet.
As part of the reserve fleet, the ship will have modern medical capabilities, a helicopter pad, a command and control platform, berthing for up to 1,000 first responders and recovery workers, and roll-on/roll-off ramp and crane for container storage capabilities.
The first ship is expected to be delivered in 2023, the second in 2024, and the follow-on third through fifth ships delivered from 2025-2026.