The Army is seeking industry input on new radio frequency-electronic countermeasure (RF-ECM) capabilities for its aviation fleet, with plans to conduct prototype demonstrations in late fiscal year 2021.
A draft Request for Information released Tuesday detailed plans to find RF-ECM solutions for Army fixed and rotary-wing aircraft, including its Future Vertical Lift platforms, and field first units in FY '28.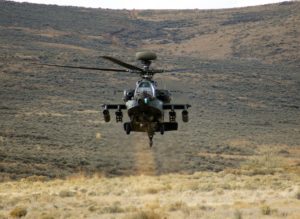 "The Army is seeking common technologies and/or component technology that can be scaled to application on various Aviation platforms and component applications to Air Launched Effects," officials wrote in the notice.
Potential RF-ECM offerings must be able to interface with on-board radar warning receivers (RWR) or provide similar RWR capability, according to the Army.
"If interfaced to the on board RWR, the RF-ECM system shall receive threat activity detection and cueing from the RWR and provide threat information back to the RWR," the Army wrote.
Interested vendors are asked to detail their RF-ECM capabilities, capacity for in-house lab testing, potential constraints with installation on specific aircraft, open architecture specifics and ability to rapidly reprogram software and hardware components. 
Responses will be accepted through May 7 to inform the release of a final RFI in June.
The Army is then expected to release a request for white papers to members of the Aviation and Missile Technology Consortium in early FY '21.