A contractor working on Robins Air Force Base, Georgia, has passed away from suspected medical complications related to the COVID-19 coronavirus, the Air Force said April 6.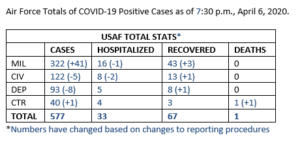 The contractor was under prior treatment for medical and respiratory complications and was later confirmed to be COVID-19 positive before passing away April 3, the base said in a press release.
"We are saddened by the loss of an Air Force Life Cycle Management Center contract team mate," said Col. Brian Moore, Robins Installation commander in the release. "This is a difficult time for all as this virus increasingly affects the base and community."
The individual, whose name and affiliation to Robins has not been identified as of Defense Daily's deadline Tuesday, had been teleworking and was last in the office in mid-March, the base said.
Moore said Robins AFB is taking "all measures to flatten the curve on the virus, and it is imperative to follow all of the precautions set forth by the [Centers for Disease Control and Prevention] – social distancing, use of a face cloths, proper hygiene and seeking medical help if symptoms are detected."
As of Tuesday, the Air Force has reported 577 cases of positive COVID-19 among its personnel. That includes 322 military cases, up from 281 on Monday; 122 civilians, down from 127; 93 dependents, down from 101; and 40 contractors, up from 39 over Monday. Thirty-three individuals have been hospitalized and 67 individuals have recovered from the coronavirus to date.