The Army is gathering lessons learned from the ongoing war in Ukraine to inform the final touches on its new Multi-Domain Operations (MDO) doctrine, according to a lead official, who said the new document should be out "some time before the end of the calendar year."
Gen. Paul Funk, commander of Army Training and Doctrine Command, said officials from the Center for Army Lessons Learned and the team leading the MDO doctrine effort are in Europe to capture observations from Russia's ongoing invasion of Ukraine to check it against how the Army is thinking about operating on the future battlefield.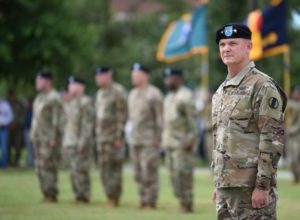 "That's so we can make sure we capture and check what we're writing as doctrine and make sure that's what it's going to look like on the battlefield of today and is it going to be sufficient for tomorrow," Funk said during an Association of the United States Army (AUSA) discussion.
Army officials said last year they believed the new MDO doctrine could be released in the summer of 2022, which builds on the service's work over the last few years to iterate on an MDO concept focused on driving strategic formations to better align with growing threats from Russia and China and growing coordination on key efforts across the services (Defense Daily, March 15 2021).
Funk told reporters following his AUSA discussion that it's "fair to say" if the war in Ukraine had not occurred then the Army could have released the MDO doctrine around the June timeframe.
"I think it's worth taking the extra bit of time here, 90 to 100 days, just to look at it to make sure we're on track. I think we are. Frankly, it's been pretty clear that we are," Funk said. "There's no hurry. This is the doctrine for 2030. So let's make sure it's as right as we can make it right now."
The Army personnel gathering lessons learned from the Ukraine conflict are gathering information on "everything from the tactical to strategic," according to Funk.
"I want to make sure [the doctrine] is right. And, frankly, why not keep experimenting? Let's test it. Let's see if it's working," Funk told reporters. "They're talking to Ukrainians. They're talking to the people that are training Ukrainians. They're talking to refugees. They're talking to everybody they're exposed to."