The Army's top budget official said Thursday the service expects to start fiscal year 2022 under a continuing resolution (CR) with Congress facing a compressed timeline to complete appropriations bills.
"One of the challenges we see with fiscal year '22, which has really happened nine of the last 10 years, is we do expect to start [FY '22] under a continuing resolution authority," Maj. Gen. Paul Chamberlain, the Army's budget director, said during an Association of the United States Army discussion. "Despite that though, we have had indications from Congress that they are looking to try to enact a bill as soon as possible. But, historically, we can look back and see the earliest a bill will be enacted is probably in December. But we have had appropriations bills enacted as late as April and even May, and that is a possibility as we look at fiscal year '22."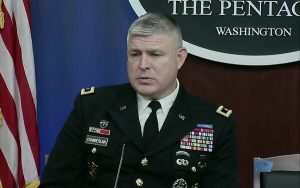 Chamberlain reiterated that a CR would prohibit the Army from starting new programs and military construction projects as well as delaying movement on production rate increases.
The release of the Pentagon's $715 billion budget request, to include a slightly reduced Army topline of $173 billion, was delayed until late May (Defense Daily, May 28). 
"[Under a CR], we're also limited to executing only to the level that we spent the previous year. So if there was more money in the previous year we could potentially execute to a higher amount but there's risk in that knowing that what we submitted in the president's budget is $3.6 billion less," Chamberlain said.
The House Appropriations Committee has already pushed back its consideration of FY '22 appropriations legislation until July 13 and the House Armed Services Committee has delayed its full National Defense Authorization Act (NDAA) mark-up to September 1 (Defense Daily, June 15). 
Sen. Jack Reed (D-R.I.), the chairman of the Senate Armed Services Committee, also previously announced in late April the committee's NDAA mark-up would be pushed back until July due to "uncertainty of the timing of the president's budget submission" (Defense Daily, April 29).
Chamberlain said a long-term CR may cause the Army to push up against the 80-20 rule in FY '22, which prohibits government agencies from spending more than 20 percent of its allocated funding in the last two months of the fiscal year. 
"We don't have that risk in FY '21, but a long-term continuing resolution authority in FY '22 could potentially put us at risk for that," he said.