The Army is soliciting proposals for new armor kits to better protect its range of Family of Heavy Tactical Vehicle (FHTV) trucks, with a contract award planned for this fiscal year. 
An eventual contract will include an initial order for 16 FHTV protection kits and eight Tricon ISO containers, with the deal potentially covering 5,400 kits and 2,700 ISO containers.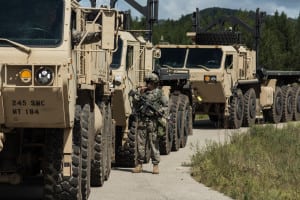 The FHTV protection kit deal will likely be a five-year firm-fixed price, IDIQ contract, according to the Army, and will be awarded once funds are available.
The deal covers the service's Heavy Expanded Mobility Tactical Truck (HEMTT) armor B-kit, the Palletized Load System (PLS) armor B-kit, the M915A5 armor B-kit, the HEMTT Tanker armor module,and  the HEMTTA4 and PLSA1 underbody armor kit.
The initial order for 16 protection kits would be split evenly among the four FHTV vehicle requirements. 
Oshkosh Defense [OSK] manufactures the Army's fleet of FHTV trucks. 
Proposals are due to the Army by Feb. 3.