NORFOLK, Va. — The Army has released the draft Request for Prototype Proposals (RPP) for the Common Tactical Truck (CTT) effort following a short delay to ensure senior leadership input on the program's path, a lead official told Defense Daily on Tuesday.
The draft RPP was released on Feb. 25 through the National Advanced Mobility Consortium (NAMC) to its members, with comments due back from industry by March 14.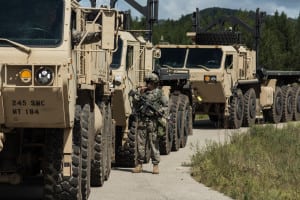 "What we were trying to do was allow for some more senior leader engagement," Alvin Bing, the Army's product manager for heavy tactical vehicles, told Defense Daily at NDIA's Tactical Wheeled Vehicles conference here. "We wanted to tell them our approach and get some guidance to make sure we're on the right path."
NAMC originally noted the draft RPP would likely be released no later than Feb. 11, but followed up with a separate note that the document had been "postponed until further notice."
In a Jan. 24 notice to industry, the Army detailed plans to open the CTT program with a multi-phased prototyping effort, to include awarding up to five deals with each vendor responsible for delivering three test vehicles (Defense Daily, Jan. 27).
The initial production contract for the CTT program may be worth $5.1 billion and cover over 7,000 vehicles, according to the same notice to industry.
Bing noted the timing of the draft RPP coincided with the Army swearing in Doug Bush as its new top acquisition executive, and program officials wanted to ensure Bush had ample time to assess the effort before the document was finalized.
During a Feb. 17 briefing with reporters, Bush called the delayed draft RFP for CTT "a minor pause" and noted it was due to internal discussions about the prototyping effort and was not a budget-related decision.
"The FY '22 budget has money in it for that prototyping effort," Bush said at the time.
CTT, formerly known as Next Generation Future Truck, is intended to replace the Army's Palletized Load System A1 and Heavy Expanded Mobility Tactical Truck A4 and M915 and M1088 Tractors, with new variants that utilize a common chassis.
The eventual common chassis for CTT is expected to support five vehicle configurations: a "wrecker" variant capable of recovering Strykers and Mine Resistant Ambush Protected vehicles, a Load Handling System-Heavy version with a crane, a tractor variant capable of handling payloads up to 40 tons, a tanker variant with an objective payload of up to 2,500 gallons and a cargo bed variant with a crane.
Following the open competition for the CTT prototyping program, the Army said it may award the initial production contract "without the use of competitive procedures, so long as the participants in this transaction successfully complete the prototype project."