Last month, the Navy directed the Commander of Naval Surface Forces U.S. Pacific (CNSP) to develop the concepts of operations (CONOPS) for its two biggest unmanned surface vessel programs.
In a Dec. 19 message, the Commander of U.S. Fleet Forces Command, along with the commanders for U.S. Pacific Fleet and Naval Forces, directed CNSP to have the Surface Development Squadron One (SURFDEVRON One) develop the fleet CONOPS for the Medium Unmanned Surface Vehicle (MUSV) and Large Unmanned Surface Vessel (LUSV) programs.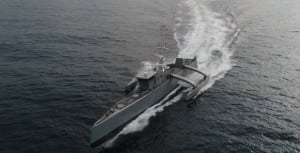 CONOPS work is meant to describe the capabilities of the MUSV and LUSV at initial operating capability (IOC) as well as the organization, manning, training, equipping, sustaining, and the introduction and operational integration of vessels with individual afloat units and with Carrier Strike Groups, Expeditionary Strike Groups, and Surface Actions Groups.
The Navy plans to establish Unmanned Surface Vessel Division ONE (USVDIV1) as an Echelon V commander assigned under SURFDEVRON One to introduce and operate MUSVs and LUSVs.
Fleet Forces noted the target audience for the CONOPS includes "afloat and shore-based Navy commanders who plan, review, approve, and execute activities in support of combatant commanders or service goals, objectives, and operations."
This CONOPS also aims to inform doctrine and tactics, techniques and procedures (TTP) developers, force providers, the acquisition community, and resources sponsors of fleet requirements for MUSV and LUSV manning, training, and system enhancements that increase the platforms' warfighting capability.
This MUSV and LUSV CONOPS development is specifically being added to the FY 2020 Fleet CONOPS development plan.
The service is ordering CNSP to develop the CONOPS "to align and articulate planning, organizing, resourcing (budget, materiel, personnel), and training for mission execution."
"Use information from previous analyses, fleet experiments, validated requirements, approved TTP, CONOPS, and CSDS1 to ensure relevant CONOPS and lessons learned are considered. Indicate deviations from established doctrinal principles as appropriate," the message continued.
The message underscored the CONOPS Development Team (CDT) should start by considering factors like identifying and addressing anticipated integration and interoperability challenges for introducing MUSVs and LUSVs with the current force structure; addressing challenges involved with deploying and employing the vessels; address command and control, communications, computer, combat systems, and ISR processes and procedures; present scenarios that illustrate the synchronization of capabilities to execution; and identify future unmanned surface vessel organizational structure like basing, sustainment, and deployment concepts.
Fleet Forces Command also wants the team to identify force development gaps and shortfalls that impact program wholeness, provide mitigation actions, identify communications paths and organizations responsible for processing, exploiting, and disseminating information collected from MUSV intelligence, surveillance, and reconnaissance and Electronic Warfare payloads; define the projected operating environment including operational parameters for each vessel; and specific doctrine, organization, training, materiel, leadership and education, personnel, facilities, and policy (DOTMLPD-P) impacts.
The message directed a timeline of a plan of actions and milestones and CONOPS outline due Feb. 3, planner drafts by April 15, flag officer draft by Aug. 1, and a final draft by Sept. 15, 2020.
Last May, the Navy reorganized Zumwalt Squadron One into SURFDEVRON One. The unit aims to keep acting to man, train, and equip Zumwalt-class destroyers while also integrating MUSVs and LUSVs. It also works to support fleet experimentation to bringing new concepts and capabilities to the fleet quickly (Defense Daily, May 24, 2019).
The message comes in the wake of congressional negotiations over how much to fund for unmanned surface combatants. The FY 2020 appropriations bill eventually funded two LUSVs, but prevented the Navy from installing vertical launch tubes (VLSs) on the vessels at this time.
The CONOPS message defines the MUSV as a high-endurance vessel with the capacity to carry various modular payloads, initially focusing on intelligence, surveillance, and reconnaissance (ISR) payloads and Electronic Warfare systems. In contrast, the Navy wants the LUSV to be equipped with Vertical Launch Tubes to provide surface warfare and strike mission capabilities.
"The fundamental capabilities of these platforms may necessitate changes in how Carrier Strike Groups/Expeditionary Strike Groups and Surface Action Groups conduct operations," the message said.