The 49th annual Baltic Operations (BALTOPS) international maritime exercise is set to last over a week and is about to begin, the Navy announced June 1.
The annual BALTOPS aims to be a "visible demonstration of NATO's commitment to promote peace and security in the region by exercising the forces that can rapidly respond in a time of crisis," the Navy said in a statement.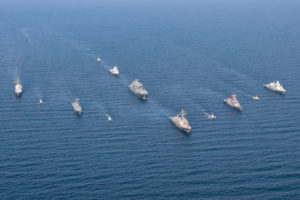 The exercise is slated to last from June 7 – 16. The Navy said training areas in the exercise will focus on air defense, anti-submarine warfare, maritime interdiction, and mine countermeasures operations.
This year's exercise will include 19 participating countries, consisting of 17 NATO members and two other partner nations providing 29 maritime units, 29 aircraft, and 3,000 personnel.
Participants this year include the U.S., Canada, Denmark, Estonia, Finland, France, Germany, Greece, Italy, Latvia, Lithuania, the Netherlands, Norway, Poland, Portugal, Spain, Sweden, Turkey, and the U.K.
The Navy explained to further ensure health and safety of participating military personnel amid the COVID-19 pandemic, the exercise will take place exclusively at sea.
"This precaution allows units to enhance multinational operational cooperation, while ensuring that crews remain healthy, and ready to provide continuous regional security," the Navy said.
Last year's BALTOPS was led by the U.S. 2nd Fleet and started in Kiel, Germany. It included 389 completed serials, or coordinated military exercises, an increase over the 98 in 2018 (Defense Daily, June 24, 2019).
Navy officials previously boasted the 2019 exercise had the first use of simultaneous amphibious operations in both the Eastern and Western Baltic Sea and featured mine warfare with an exercise of MK 19 Mod III unmanned undersea vehicle technologies and other capabilities working together for the first time.