When Rep. Mac Thornberry (R-Texas) leaves Congress in January 2021, he will take with him a deep knowledge and support of national defense that will take years to replace, colleagues and analysts said Sept. 30.
The House Armed Services Committee (HASC) ranking member announced Monday that he would not seek reelection in the 2020 cycle. He will have served 13 terms on the Hill and three terms in HASC leadership – two as chairman and one as ranking member (Defense Daily, Sept. 30).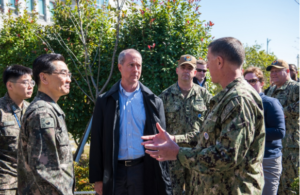 Thornberry's Democratic counterpart, HASC Chairman Adam Smith (D-Wash.), said the Republican's retirement is "a loss for the Congress" in a Monday afternoon statement.
Noting that he and Thornberry have known each other since 1997, Smith said he is "glad to have counted him a colleague and will always call him a friend." The two HASC leaders have frequently highlighted their ability to work on a bipartisan basis.
"Thanks to Mac's leadership, during the 115th Congress we focused on acquisition reform and accountability at the Pentagon," Smith said in his statement. "Together we have passed smart reforms that give our men and women in uniform the resources they need to make our country safer."
Analysts on Monday noted Thornberry's strong support of national defense and his history of working closely with his Senate counterparts to raise defense spending and spur institutional change to DoD acquisition policies. In particular, Thornberry as chairman worked closely with former Senate Armed Services Committee Chairman Sen. John McCain (R-Ariz.) to boost spending in the fiscal year 2018 defense budget; in 2017, the pair lobbied President Trump to increase the defense budget from $603 billion to $700 billion (Defense Daily, Feb. 27, 2017).
Tom Spoehr, director of the Heritage Foundation's Center for National Defense, praised Thornberry as one of "a very small number of congressmen" who has "taken the time to understand national defense."
"When he speaks, it's always measured, it's always serious, it's always well informed," Spoehr said in an interview with Defense Daily.
Both Thornberry and McCain were "cut from the same cloth" of being sharp advocates for the military but able to scrutinize programs to minimize wasteful spending, Spoehr added.
Thornberry in particular will be known for his efforts to reform the Pentagon's acquisition and administrative processes, analysts said. He introduced two bills into the fiscal year 2020 National Defense Authorization Act (NDAA) that encouraged fixes to the Pentagon's "4th Estate" agencies – the 19 agencies that are not a military branch or a combatant command – and advocated for more opportunities for small businesses to work with the department (Defense Daily, May 16).
His plans to leave Congress should not impact ongoing negotiations for the fiscal year 2020 National Defense Authorization Act or beginning talks on the FY '21 budget, Spoehr noted. "He has always given 100 percent; always spoken plainly the way he feels. So I wouldn't anticipate anything will be different in that respect."
Byron Callan of the Capital Alpha Partners, noted in a Monday email to investors that the bipartisan spirit hailed by Smith and Thornberry has "gotten a bit frayed in recent years." The fiscal year 2020 NDAA passed through committee in June along party lines, and similarly was passed by the full House in July in a largely partisan vote.
"A now-distant question for 2021 and beyond is how a new Ranking Member on HASC will get along with Chairman Smith (D-Wash.), presuming he is re-elected in 2020 and the Democrats hold their majority in the House," Callan said. "A more partisan divide may make it tougher for the House to reach agreement on the National Defense Authorization Act—at the least, it may create a noisier debate preceding its passage. We don't yet see new positives or negatives for specific defense programs or contractors."
While Spoehr noted that Thornberry's shoes will be tough to fill for the next HASC GOP leader, he identified Reps. Mike Turner (R-Ohio), Mike Rogers (R-Ala.) and Rob Wittman (R-Va.) as viable candidates to become acquisition reform watchdogs and well-rounded members and fill the void.
Those members are active in the committee, he said. "When I think of people that are moderately senior and also really active in armed services, those are the three that come to my mind."
However, it will take years for another member to build up the knowledge base that Thornberry has now, Spoehr added.
Callan similarly put Turner as a top contender to replace Thornberry as HASC GOP leader, as well as Rep. Joe Wilson (R-S.C.), the current number-two GOP committee member. The committee's third most senior Republican, Rep. Rob Bishop (R-Utah), announced earlier this year that he would not seek another term in 2020.
Turner represents the 10th District in Ohio, which includes Wright-Patterson Air Force Base, and has served as the ranking member on the HASC Subcommittee on Strategic Forces since early this year and had previously served as chairman of the HASC Subcommittee on Tactical Air and Land Forces. He is also the chairman of the Defense and Security Committee of the NATO Parliamentary Assembly. "Our sense from observing HASC hearings is that Turner can be forceful in arguing for defense modernization, however, the minority party in the House has less power than in the Senate," Callan said Monday.
Wilson, a retired colonel who served in the Army Reserve until 2003, represents the Marine Corps Air Station at Beaufort, the Recruit Depot at Parris Island, Shaw Air Force Base, and Charleston Air Force Base in his South Carolina district. He formerly chaired the HASC Subcommittee on Readiness and the Subcommittee on Military Personnel.
Rogers formerly chaired the HASC Subcommittee on Strategic Forces until 2019, and has been one of the strongest proponents of establishing a new military branch dedicated to space for several years now. He represents the Anniston Army Depot and his district borders those representing Maxwell-Gunter Air Force Base, Alabama and Fort Benning, Georgia.
Wittman is the former chairman and current ranking member of the HASC Subcommittee on Seapower and Projection Forces, and formerly chaired the Subcommittee on Readiness. He also serves as co-chair of the Congressional Shipbuilding Caucus.