Rep. Mac Thornberry (R-Texas), the former chairman and current ranking member of the House Armed Services Committee, said Sept. 30 that he would not be running for reelection in 2020.
"It has been a great honor to serve the people of the 13th District of Texas as their congressman for the last 25 years," Thornberry said in a Monday statement.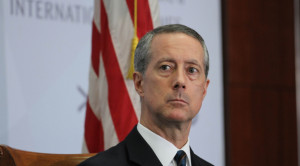 "We are reminded, however, that 'for everything there is a season,' and I believe that the time has come for a change," he continued. "Therefore, this is my last term in the U.S. House of Representatives."
Thornberry assumed office in the House in 1995, and served as HASC chairman from 2015 to 2019, when Democrats took control of the House and Thornberry's Democratic colleague, Rep. Adam Smith (D-Wash.) took over as chairman. He would have been term limited on HASC when the new Congress took over in 2021. House GOP members are limited to three terms in committee leadership positions.
Thornberry currently only sits on the House Armed Services Committee, but he has also previously served on the House Permanent Select Committee on Intelligence, as well as on the Budget Committee, Resources Committee, the Select Committee on Homeland Security, and the Joint Economic Committee. He also chaired the Task Force on Cybersecurity in 2011 and 2012.
He represents the 13th District of Texas, which includes Amarillo, and is not expected to be competitive in the 2020 elections. Thornberry won reelection there in 2018 by 65 points.The Pantex Plant, which serves as the primary U.S. nuclear weapons assembly and disassembly facility, is located in his district.
He is the sixth Texas Republican to opt to retire from the House in 2020 and the seventh HASC member to announce retirement.
Before his first election to Congress in 1994, Thornberry previously served as chief of staff to Texas Republican House lawmakers, and was deputy assistant secretary of State for legislative affairs for President Reagan in the mid-1980s.