The Army has selected AM General to build the Joint Light Tactical Vehicle (JLTV) fleet, beating out current manufacturer
Oshkosh Defense [OSK] for the potential 10-year, $8.7 billion re-compete production contract.
AM General has received an initial $230.9 million contract for JLTV production, according to the Pentagon's contracts announcement on Thursday evening.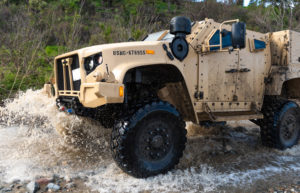 "One of the key strategies of the JLTV program from its earliest days was to leverage competition to control cost and maximize buying power for the government," Brig. Gen. Samuel L. "Luke" Peterson, the Army's program executive officer, Combat Support & Combat Service Support (PEO CS&CSS), said in a statement on Thursday. "From the start of production, the government procured the data rights to the JLTV Technical Data Package from the original equipment manufacturer, which the program leverages to conduct future production competitions and control the platform's configuration and vehicle price well into the future. These government-held data rights permitted the program to compete this follow-on production contract with much better control of the production configuration and cost."
PEO CS&CSS said the new contract could cover production of up to 20,682 JLTVs and up to 9,883 JLTV Trailers.
Only two bids were submitted for the JLTV re-compete effort, one from AM General, which unsuccessfully bid on the original contract, and Oshkosh Defense, which has been building the vehicle since 2016.
AM General is the manufacturer of the Army's fleet of Humvees.
The Army has said first vehicle delivery under the new production deal is expected 18 months after contract award.
George Mansfield, Oshkosh Defense's vice president and general manager of joint programs, told Defense Daily previously the company was "very confident" in its pursuit to secure the next production contract (Defense Daily, Nov. 1 2021).