The State Department approved a possible $60 million Foreign Military Sale (FMS) to Jordan for an F-16 Air Combat Training Center and related equipment.
The Defense Security Cooperation Agency (DSCA) notified Congress of the possible sale on Thursday.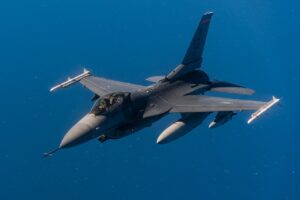 The sale covers an F-16 Air Combat Training Center and Devices which includes full mission trainers, combat tactics trainers, instructor/operator stations, tactical environment simulators, brief/debrief stations, scenario generation stations, database generation stations, mission observation centers, and other training equipment and support.
The primary contractor for the sale is Lockheed Martin [LMT].
DSCA said Jordan will use the new asset to enhance training of pilots.
The agency added this "will improve Jordan's capability to meet current and future threats by ensuring Jordan's pilots are effectively trained, which will contribute to the U.S.-Jordan lasting partnership and ensure the country's stability, a critical element to broader U.S. regional policy goals."
Separately, on February 9 the State Department approved a possible $65 million FMS to the NATO Communications and Information Agency for 517 AN/PRC-158 Manpack UHF SATCOM radio systems and related equipment.
DSCA said that sale would ensure allied NATO warfighters have access to "the latest C3I systems and technologies and will be interoperable with U.S. forces."
The agency elaborated the updated radios will offer significant C3I capabilities at all echelons, ranging from operational level down to the lowest small unit tactical formation.
"These capabilities increase secure communication effectiveness and efficiency and enhance military decision making."
The Jordan sale is the third FMS approved since President Joe Biden was inaugurated on January 20.
Last week the State Department approved an $85 million FMS to Chile for Raytheon Technologies [RTX] Standard Missile-2 Block IIIA missiles and assorted equipment. This was the first FMS that completed the approval and notification process in the Biden administration (Defense Daily, Feb. 5).