The State Department recently approved a possible $1.02 billion Foreign Military Sale (FMS) to India of up to 13 MK 45 5 inch/62 caliber Mod 4 naval guns.
The Defense Security Cooperation Agency (DSCA) notified Congress of the potential sale on Nov. 19.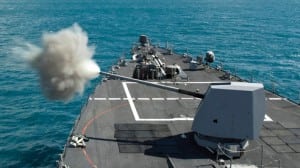 India's request includes up to 13 MK 45 naval guns along with 3,500 D349 Projectile, 5"/54 MK 92 MOD 1 Ammunition, other ammunition, spare parts, training, and other related technical and logistics support.
The primary contractor for this FMS is naval gun builder BAE Systems' Land and Armaments division in Minneapolis, Minn., with gun manufacturing in Louisville, Ky.
DSCA said India will use the MK-45 guns to perform antisurface warfare and anti-air defense missions while also enhancing interoperability with the U.S. and other allied forces.
The agency said India will use this capability to counter current and future threats from enemy weapon systems.
"India will use the enhanced capability as a deterrent to regional threats and to strengthen its homeland defense," DSCA added.
Although implementing this sale will not require assigning additional U.S. government or contractor representatives to India, personnel in country visits will be required on a temporary basis in conjunction with program technical oversight and support requirements.