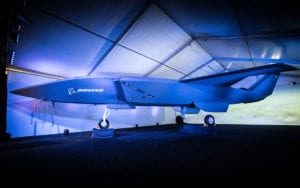 Boeing Australia [BA] announced the first flight of subscale test aircraft for its Airpower Teaming System (ATS) this week.
"We successfully achieved our first autonomous teamed flights using high-performance jets as test beds and Australian-developed mission systems technology," Boeing Australia announced on social media, including Facebook and Twitter on Nov. 18.
"Flying at speeds of up to 300 kilometers/hour, our team tested the jets' abilities to safely communicate and coordinate with each other," according to Boeing. "Next, we'll try more complex maneuvers, increasing teaming formation numbers and more complex missions."
Enabled by artificial intelligence (AI), ATS is a "modular and highly customizable aircraft with fighter-like flight capabilities," according to Boeing, which envisions ATS as enabling manned-unmanned teaming in which the unmanned system could "complement and support a specific threat-based mission."
ATS is part of Boeing Australia's effort to advance autonomous systems technology to prepare for the first flight of the Royal Australian Air Force's (RAAF) Loyal Wingman prototype next year. The Australian government announced the Loyal Wingman effort in February.
Loyal Wingman is to be a reduced radar cross section (RCS) unmanned combat aerial vehicle (UCAV) flying at high-subsonic or low-supersonic speeds and providing support to manned fighters via the UCAV's weapons and data sharing.
The United Kingdom is also looking at such a manned-unmanned concept through its Project Mosquito, and the French and German governments are examining the concept as well for the Future Combat Air System (FCAS) program. The concepts may involve a swarm of lighter UCAVs working in tandem with fighter aircraft.
Boeing said that ATS will be 38 feet long, able to fly more than 2,000 nautical miles, and will integrate sensors to support a variety of intelligence, surveillance, and reconnaissance, tactical early warning and other missions.
Kristin Robertson, vice president and general manager of Boeing Autonomous Systems, said in August that Boeing's goal is "to help customers bring quantity to the fight and to integrate sovereign capability, data links, sensors and communications systems in a wider ecosystem of platforms that work together."
"The testing being done now is another step in getting a force multiplier to the warfighter, but with the confidence in AI they need," she said in August.