Sikorsky [LMT] and German partner Rheinmetall formally submitted their bid on Monday to produce and operate the CH-53K King Stallion as the next Germany Air Force heavy lift helicopter.
Sikorsky's team
first formally offered the single-main-rotor CH-53K last May for the Luftwaffe's "Schwerer Transporthubschrauber" (STH) program to replace the older CH-53 the service currently uses (Defense Daily, May 28, 2018).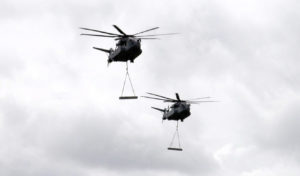 Sikorsky is partnering with more than 10 German companies in the bid including Rheinmetall, MTU, ZF Luftfahrttechnik GmbH, Autoflug, HYDRO Systems KG, Vincorion, Hensoldt, Liebherr and Rohde & Schwarz.
"Our entire team is pleased to offer the CH-53K: the most efficient, capable and intelligent helicopter that will deliver the best long-term value to the Bundeswehr through the 21st century," Beth Parcella, CH-53K International Business Development Director, said in a statement.
Parcella argued using this kind of German industrial team will help capitalize on German teammate know-how and ensure the quality of the offer and later high availability of the CH-53K for the German Air Force.
"German companies will play a significant role in the success of the CH-53K program. For the industry, this means the creation of many new, long-term jobs for highly qualified employees and an important transfer of know-how," Mike Schmidt, Managing Director of Rheinmetall Aviation Services GmbH said in a statement.
"Sikorsky and Rheinmetall prepared the application together over a long period of time – this has strengthened the bonds within our team. We have developed into a highly effective unit," he continued.
Sikorsky argued the CH-53K offers a better long-term value than competitors. With avionics and digitized flight control systems that are designed to accommodate software upgrades, an internal payload capability that can be "increased substantially in the future with relatively simply modifications" and an integrated sensor system that allows the CH-53K to predict and prevent problems to reduce maintenance efforts.
One of Sikorsky's competitors is Boeing [BA], which pitched a version of its CH-47F Chinook helicopter, which is currently in service in the Netherlands, Italy, Greece, Spain, Turkey, the U.K., and Canada.
Sikorsky said the CH-53K has an air-to-air refueling capability interoperable with parent company Lockheed Martin's KC-130J tanker aircraft, which the German armed forces, Bundeswehr, is planning to operate.
Sikorsky said if the King Stallion is chosen, it and Rheinmetall plan to set up a logistics hub and STH fleet support center at Leipzig/Halle Airport.
Last month, the Navy said a team of industry and government engineers solved and mitigated a previous engine integration issue for the CH-53K. The aircraft had been dealing with design deficiencies like re-ingestion of exhaust into the three engines (Defense Daily, Dec. 18, 2018).