STRATFORD, Conn. — With the Army approaching major milestones for its Future Vertical Lift (FVL) competitions, Sikorsky [LMT] officials told reporters last week the company is already prepared to manufacture the next-generation helicopter fleet with its investment in advanced machining and "digital thread" technologies for current production lines.
Paul Lemmo, president of Sikorsky, specifically said the company is applying experience folding in burgeoning capabilities, from robotics to 3D printing, on its active production line for the CH-53K King Stallion helicopter to show potential for reducing schedule and cost related to potential FVL production.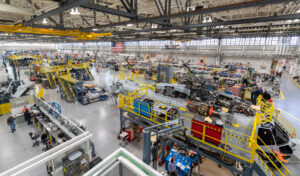 "The digital thread that's in our factory, the CH-53K is the first aircraft that was born digital. We've obviously used digital design tools for many years, but with the CH-53K it's not just about design. We've extended that digital thread through production and into sustainment," Lemmo said. "We've been on the digital transformation journey for a long time. We're ready to build in a modern environment with the Future Vertical Lift aircraft, whichever [platform] ends up being awarded here."
Sikorsky is competing against Bell [TXT] for the Army's Future Attack Reconnaissance Aircraft (FARA) program to find a new scout attack helicopter under the Army's FVL initiative, with plans to fly the first prototypes in late fiscal year 2023.
For the Future Long Range Assault Aircraft (FLRAA) program, to find a Black Hawk replacement, Sikorsky has teamed with Boeing [BA] to offer the Defiant X platform and is up against Bell's V-280 Valor tiltrotor platform, with the Army set to select a winner for production this summer.
During a media visit to Sikorsky's headquarters and main assembly center here last week, where the company builds the CH-53K and Black Hawk helicopters, George Mitchell, the company's vice president of operations, took reporters on a tour of the production facility to highlight the latest manufacturing advancements.
"A lot of the equipment we buy today has the capability to mill, turn, drill, grind and potentially even shape splines all in the same machine, so the part never has to leave. You put the part in the machine one side, flip it over, do the second side and it's done," Mitchell said. "We're optimizing things in the virtual world so that when we get to the machine tool we can produce a good quality part on the first try at a very affordable, low cost point."
Mitchell also cited the Stratford plant's Advanced Manufacturing Technology Center (AMTC), a dedicated space for working on 3D printing advancements and new robotic technologies, and the Systems Integration Lab (SIL), that houses an aircraft simulator and data collection capability, as key contributors to advancements required for FVL production.
"[The AMTC] is a space where we can not be on the factory floor but still pilot, prototype and then ultimately transfer [the technology] to production. It's a great workspace to come up with new ideas, try it out, perfect it and then implement it for production," Mitchell said. "I can't say enough about the risk reduction and the good work that goes on [in the SIL] for training the pilots, proving out the software. Every time there's any upgrade we demonstrate it there before we actually put it in the aircraft."
On robotic assembly technology, specifically, Mitchell said Sikorsky has three machines on order that will be installed on the production line later this year to work on rotor blade spars for the CH-53K and FVL platforms.
Lemmo said every new piece of equipment that went into standing up advanced production capacity for the CH-53K was procured "with FVL in mind."
"We don't need a lot of new investment for Future Vertical Lift programs. It's pretty much in the factory today or coming in the next year," Lemmo said. "We're proving out that digital thread and all the tools that go with it. So I think we're well down that path. Now we're certainly looking to take it to the next level with FVL."
The Marine Corps announced in late the CH-53K has reached initial operational capability (IOC), as the service plans to deploy the first CH-53K Marine Expeditionary Unit (MEU) detachment in fiscal year 2024 (Defense Daily, April 25).
"We have five aircraft on the assembly line and one in the hangar. In the next year, we're going to double that and then we're going to double it again as we continue to full-rate production," Lemmo said.
Bell, which would produce FARA and FLRAA at its assembly facility in Amarillo, Texas, has opened a new Manufacturing Technology Center (MTC) in Fort Worth, Texas to refine production processes with advanced machines and research and development projects aimed at finding ways to rapidly manufacture critical components and help reduce long-term sustainment costs (Defense Daily, March 17).
"I know we are implementing this today on the production line. So we're not just talking about doing a design digitally. Walk the floor. The CH-53K's got a digital thread that goes through production into sustainment. And that aircraft, because we've already got it fielded and its IOC now, is already in the sustainment phase. So we're walking the talk. It is implemented. It's in process now," Lemmo said. "I'm not aware that our competitor has a production program today where they've got a digital thread throughout. I know they're certainly talking about it for FVL. But we're not talking about it, we're doing it."