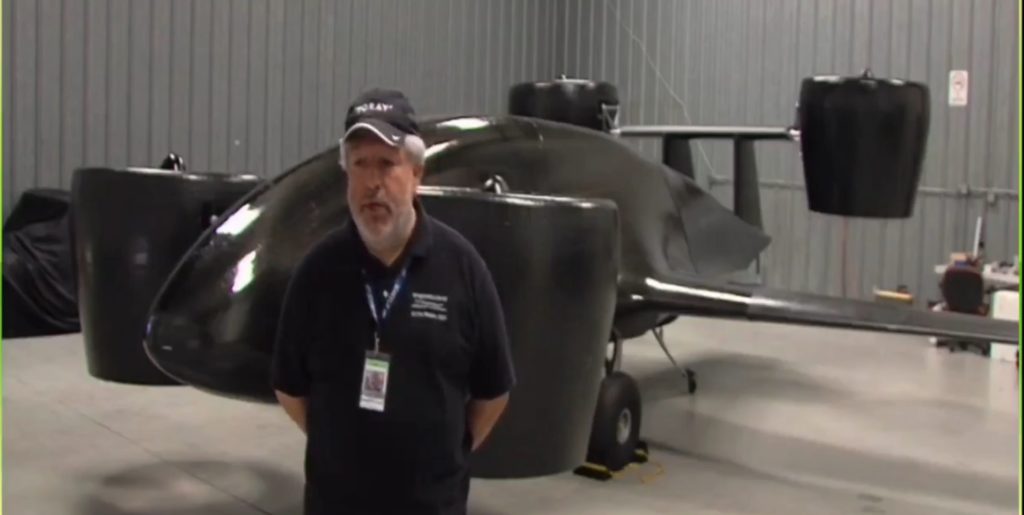 At the conclusion of the Air Force's Agility Prime event on revolutionary VTOL aircraft, California-based Sabrewing Aircraft revealed their 'Rhaegal-A' prototype, an unmanned heavy-lift cargo aircraft that the company says will be capable of moving heavy payloads almost anywhere in the world — landing where many fixed-wing and VTOL aircraft cannot.
"The aircraft is designed to open new locations and deliver cargo where no fixed-wing or helicopter can go, and it's also designed to land in locations where there is no pad or any other kind of structure," said CEO Ed de Reyes, noting that the Rhaegal is also able to operate "where no battery, fuel cell or hydrogen tank can go currently," an advantage it has over many electric and hydrogen VTOL designs under development.
De Reyes also said his company received a Phase 2 SBIR contract from the Air Force worth $3.25 million.
"Our SBIR contract provides R&D funding for using our navigation system and detect-and-avoid system to provide an aircraft position solution in a GPS-denied environment," de Reyes said. "We will also test this denied GPS solution both on the test bench and in the air to verify that it works correctly. We will also demonstrate the Rhaegal aircraft's ability to deliver cargo to remote locations and unimproved areas."
Using the Safran Ardiden 3 engine to power four electric motors, the hybrid-electric Rhaegal-A will use four tilting ducted fans to reach speeds up to 245 mph, according to de Reyes, flying at altitudes up to 22,000 feet for a range exceeding 1,000 nautical miles.
During the Agility Prime launch, Air Force and other government leaders stressed the importance of electric VTOL capabilities for distributed logistics and sustainment as well as rapid deployment and response efforts. Service acquisition chief Will Roper told reporters the Air Force will by 'at least 30' eVTOL aircraft.
"These new unmanned platforms can be used to drop needed supplies in remote areas, deploy and evacuate soldiers, and provide logistical spokes to make our military more agile and mobile," said Sen. Lisa Murkowski (R-Alaska) of the Sabrewing announcement. "It also has many civilian and industry applications such as mass transit, shipping, and even offering safe and secure access to areas where runways aren't present — like in many parts of Alaska.
Sabrewing has firm orders for more than 65 aircraft with letters of intent for up to 250 more following type certification, according to the company, which de Reyes expects to receive from the Federal Aviation Administration (FAA) in December 2021 and the European Union Aviation Safety Agency (EASA) in July 2021. Customer deliveries are expected to begin in January 2021, with an ability to manufacture up to 500 aircraft per year due to the Rhaegal's "unique modular construction," according to de Reyes.
Rhaegal-A's first flight tests, which will take place at Edwards Air Force Base, Calif., were originally slated to begin on June 1, but due to the COVID-19 pandemic will be delayed until quarantines are lifted. The aircraft is also a testbed for Sabrewing's larger Rhaegal-B variant, which will be capable of carrying 5,400 pounds when taking off vertically and up to 10,000 pounds on conventional takeoff.