The U.S. Army awarded Lockheed Martin [LMT] a $6 billion contract on April 30 to produce an undisclosed amount of Patriot Advanced Capability-3 (PAC-3) Missile Segment Enhancement (MSE) missiles and associated support equipment.
The DoD contract announcement said this firm-fixed-price contract covers incidental services, hardware, facilities, equipment and all technical, planning, management, manufacturing and testing efforts to produce the missiles.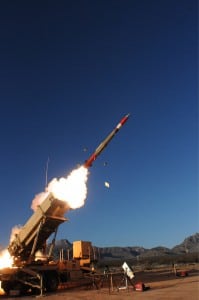 Lockheed Martin explained the contract includes the interceptor missiles, launcher modification kits, associated equipment and non-recurring efforts to support the U.S. and global customers.
"This contract demonstrates our customer's continued confidence in our ability to deliver unmatched Hit-to-Kill technology that defeats the ever-expanding global threats of today and tomorrow," Scott Arnold, vice president of Integrated Air & Missile Defense at Lockheed Martin Missiles and Fire Control, said in a statement.
He noted the PAC-3 MSE can help defend against tactical ballistic missiles, cruise missiles and aircraft.
The notification said the Army solicited bids with only one received, the builder of the missiles.
Work will occur in Huntsville, Ala.; Camden, Ark.; Ocala, Fla.; Chelmsford, Mass.; Grand Prairie and Lufkin, Texas; and Archbald, Pa.; and is expected to be finished by June 2027.
The company noted the missiles and equipment are scheduled to be delivered across fiscal years 2021, 2022, and 2023 contract years.
The full award amount in FY 2020 Army missile procurement funds was obligated at time of award.
The company underscored it is building a new 85,000-square-foot expansion at its Camden PAC-3 MSE interceptor assembly facility to increase production capacity and meet customer demand. The building is expected to be finished by the fourth quarter of 2021 and start operations in the first quarter of 2022.
This contract comes after years of international sales of the PAC-3 MSE. Besides the U.S., nine countries have signed agreements to procure PAC-3 MSE missiles: Bahrain, Germany, Japan, Poland, Qatar, Romania, South Korea, Sweden, and the United Arab Emirates (UAE).
Last year the State Department approved a $2.7 billion Foreign Military Sale (FMS) of 452 PAC-3 MSE missiles and related equipment to the UAE (Defense Daily, May 3, 2019). Then, in July, the State Department approved another $401 million FMS of 50 PAC-3 MSE missiles and equipment to Germany (Defense Daily, July 15, 2019).
In 2018 four countries requested PAC-3 MSE interceptors. In March, Poland signed a letter of offer and acceptance to build the Patriot system with the PAC-3 ME interceptors (Defense Daily, March 28, 2018); in August, Sweden agreed to buy the Patriot system along with PAC-3 MSE missiles (Defense Daily, Aug. 10, 2018); in September, the State Department approved a $501 million FMS to South Korea for 64 PAC-3 MSEs (Defense Daily, Sept. 13, 2018); and, in November, Romania signed an agreement with the U.S. Army to buy Patriot air and missile defense system with PAC-3 MSE interceptors (Defense Daily, Nov. 1, 2018).
Separately, the Missile Defense Agency also awarded Lockheed Martin a non-competitive follow-on contract worth up to $618 million for Terminal High Altitude Area Defense (THAAD) product support the same day.
The product support specifically covers logistics performance requirements; maintenance; supply; training and training support; packaging, handling, storage and transportation; forward stationing for theater support; logistics information capabilities; product assurance; safety; missile support; security; and engineering services.
The contract will be disbursed in task orders, with the first order of $10 million for battery support issued at time of award. The ordering period lasts through April 29, 2025.
Work will be split among Dallas; Sunnyvale, Calif.; Huntsville, Ala.; and Troy, Ala. The DoD contract announcement said only one offer was solicitated and received.