The Army awarded Lockheed Martin [LMT] a $1 billion modification on June 10 for Patriot Advanced Capability (PAC)-3 missiles services and equipment.
The award covers incidental services, hardware, facilities, equipment, and all technical, planning, management, manufacturing, and testing efforts to produce PAC-3 missiles.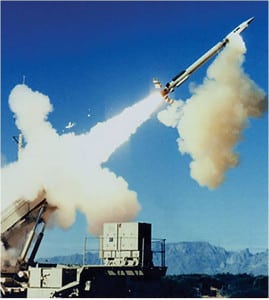 This mod is related to the company's April win of a $6 billion contract to produce an undisclosed amount of PAC-3 Missile Segment Enhancement (MSE) missiles and support equipment for the U.S. and international customers (Defense Daily, May 1).
At the time the company noted the initial contract covers missiles and equipment to be delivered across fiscal years (FY) 2021, 2022 and 2023. This new modification covers additional FY '21 work.
This modification work will be performed in Huntsville, Ala.; Camden, Ark.; Chelmsford, Mass.; Grand Prairie, Texas; and Lufkin, Texas, and is expected to be finished by October 2024.
The original contract and this modification do not name particular foreign customers under this sale, but besides the U.S. nine countries have signed agreements to procure PAC-3 MSE missiles: Bahrain, Germany, Japan, Poland, Qatar, Romania, South Korea, Sweden, and the United Arab Emirates (UAE).
The award announcement said the full modification value will be obligated at time of award via FY 2021 Army missile procurement and Foreign Military Sales for Bahrain, Germany, Poland, Qatar, Romania, South Korea, and the United Arab Emirates.